The Clicker Looks Up To Betty And Hilda Suarez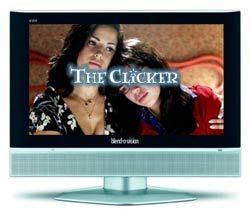 TV is full of great female characters but how many of them could be considered role models? When I think about the women in some of my favorite shows, I realize that most of them, while being completely likable, are often too flawed to really fit the standard of role model material. Hilda and Betty Suarez from 'Ugly Betty' are two of the only female TV characters on television today that truly embody all that it means to be a role model. Both are very different in terms of their lifestyles and sense of style but the most common traits between these two women are their heart, their self-confidence and their ability to be good people in a world (and a city) where that kind of optimism isn't always appreciated.
Betty, as the title character, regularly earns her role-model stripes by looking after her family as well as taking care of Daniel, her boss. As Daniel's assistant, Betty spends most of her time running errands for him, managing his schedule and expense reports and on occasion, cleaning up his messes. Betty often goes above and beyond the call of duty to take care of Daniel. Her efforts have not gone unrecognized by her boss. Daniel, who has made some major attempts to reform his womanizing ways, appreciates everything Betty does for him.
Being a good person and working hard isn't what makes Betty role model material. It's the fact that she doesn't do the things she does to get praise and appreciation from the people around her. Sure, she's an optimist and she's nice to pretty much everyone, but she's not a pushover nor is she desperately seeking the approval of others. She is the way she is simply because she believes in herself and because she has faith in the people she cares about. She believes that Daniel is a good man and this is what has helped him to become a better man.
Daniel's character has had a radical transformation over the course of the first season of the series. When he was first introduced to us in the pilot episode, he was being "serviced" by his beautiful assistant. It was this that prompted his father to hire Betty, knowing this might be the only way to keep his son's mind on his work. Throughout the season, Daniel often finds himself at a crossroads, trying to decide whether or not to conform to the low expectations set by his father and the rest of the people he works with. It is Betty that inspires him on a regular basis to step up and do the right thing.
Daniel has developed a platonic affection towards her because, despite her appearance, he sees the good in her. It's also likely that he realizes that Betty is probably the only woman in his life that he knows he can trust unconditionally. There are times when he almost seems to be seeking her approval. This is probably due in large part to the sense of satisfaction he feels when he does choose to do the right thing, on Betty's advice. Well, that and the fact that he knows if he doesn't do the right thing, he'll be rewarded with one of Betty's disapproving looks.
Betty's job isn't your average right-out-of-college "first job." She is surrounded by some of the most beautiful people in the world. At Mode, she stands out like a sore thumb with her colorful and sometimes tacky ensembles, her curvy physique, braces and girlish hairstyle. She's not oblivious to the physical differences between herself and her coworkers but she doesn't really let it get to her. Most girls in her situation would be crash-dieting and running up their credit card bills filling their wardrobe with trendy clothes. Not Betty though.
This poll is no longer available.
I wish I could go to work rocking a hideous poncho or a silly Butterfly costume and not feel self-conscious. Her great sense of humor and self-confidence allows her to put up with the snide remarks and snickers from her fellow Mode coworkers (and not in a, "I laugh so you cant see me cry" sort of way either). She realizes that she is different from them and she's not ashamed of it because she's proud of who she is. She hasn't been changed by Mode. In fact, if anything, the people at Mode have more affected by Betty than they have affected her.
Betty's sister Hilda is the opposite of Betty in terms of how she dresses, talks and generally lives her life. Betty's desire to help others seems to come so naturally for her where as Hilda, who didn't go to college and has spent the last twelve years raising her son, believes that Betty allows people to take advantage of her.
It's understandable that Hilda might view Betty's job this way. Not having gone to college or found her "dream job," Hilda spent most of this season pedaling Herbalux, a health supplement (until a lawsuit took Herbalux off the market, leaving Hilda unemployed). The job was obviously not the same kind of work that Betty does but Hilda's self confidence and belief in the product she was selling made her good at what she did. Like Betty, Hilda felt a natural satisfaction when helping people through the products she sold to them.
Hilda is also the ultimate Queens-girl, accent and all. She has acrylic nails, big hair and outfits that show off her ample cleavage. Her style is borderline tacky but she actually makes it work. Once again, it's her self-confidence that makes her already beautiful appearance even more radiant.
What makes Hilda stand out as a great person is the love and respect she has for her father, her sister and most importantly, her son. Justin is as out as a 12 year old can get. He loves fashion, Martha Stuart Living and show tunes. While some moms might try to push a son like this towards doing "normal" boy things like playing sports and video games, Hilda is proud of Justin and is raising him to be who he is. This attitude became even more apparent when Justin's father came back into the picture. Santos has had a hard time accepting Justin's effeminate behavior and Hilda has made it clear that if he can't accept who his son is, he can leave. She will not allow this man, whose approval she knows Justin is seeking, to disappoint her son or worse, make him feel bad for being how he is.
The thing that makes these two women such great characters is that the writers don't make their behaviors and choices look effortless. While the show is not entirely realistic, the writers do a great job of showing that in order to be a good person, you really have to work at it. Betty's not perfect. She's had her disagreements with her father and with Hilda. Hilda's hilarious rivalry with her neighbor, Gina Gambarro shows that she too is capable of being petty and ridiculous at times. But when it comes down to what counts, these two women are worthy of being called role models. They believe in themselves, recognize the importance of family and exude the kinds of morals and values that many of us can be inspired by.
What to Watch (4/15 to 4/21)
'Drive' (FOX) 8:00 pm
The Starting Line/Partners (Pilot episode(s)!)– A group of seemingly random people are brought together to compete in a race across the country. It could be a terrible show but I'm sold on the hype and it looks like fun.
'Desperate Housewives' (ABC) 9:00 pm
Liaisons (New!)– Susan considers moving away, one of the residents of Wisteria Lane has a deep dark secret that gets revealed and Tom gets annoyed at one of his employees who might be making eyes at Lynette.
'How I Met Your Mother' (CBS) 8:00 pm
Swarley- (rerun) – The episode where Marshall dates the girl with the crazy eyes.
'24' (Fox) 9:00 pm
11:00 pm – 12:00 am- (New!) – Jack killed all the terrorists and one minute later, the Chinese called him to tell him they had Audrey. In this episode he'll start working on putting together a rescue mission.
'Thank God You're Here' (NBC) 9:00 pm
(New!) – Jason Alexander, Jane Lynch, Brian Pasehn and Harland Williams test their improv skills in the second week of the new series. I laughed more than once during last week's episode so I'll definitely be tuning in this week.
'American Idol' (Fox) 8:00 pm
(New!) – This week is country music week and Martina McBride will coach the final 7 contestants. This one's for the girls!
'House' (Fox) 9:00 pm
Act Your Age (New!) – Chase and Cameron are bickering non-stop as they try to help a little girl who had a stroke. House gets jealous when Wilson takes Cuddy to a play.
'Jericho' (CBS) 8:00 pm
Casus Belli (New!) – The deal Jericho has with the neighboring town is in jeopardy of falling apart. Eric doesn't return from New Burn.
'American Idol' (FOX) 9:00 pm
(New!) – In the newly stretched out results show, Martina McBride performs and someone gets sent home.
"Lost" (ABC) 10:00 pm
Catch-22 (New!) – Desmond has another vision about Charlie which prompts him to take him, Jin and Hurley on a quest across the jungle. Kate becomes concerned after seeing Jack and Juliet alone.
'Ugly Betty' and 'Grey's Anatomy' are both clip episodes this week.
'Ugly Betty' (ABC) 8:00 pm
Punch Out (New!) – Fey Sommers' diaries fall into the hands of a gossip columnist. Betty works overtime to get Daniel back on track when he starts falling back into his old ways.
'30 Rock'. (NBC) 9:00 pm
Cleveland (New!) – Liz considers quitting the show and leaving New York with Floyd. That's not likely to happen but this could be the end of her relationship with The Floydster if he decides to move.
'Grey's Anatomy' (ABC) 9:00 pm
Time After Time (New!) – Meredith and Derek question their relationship. Cristina tries to keep things together with Burke. George helps Izzie deal with problems from her past and Alex gets even closer to Jane Doe.
Painkiller Jane (Scifi) 10:00 pm
Toy Soldiers (New!) – The gang, whom we met in last week's pilot episode, works on tracking down a neuro and a plot that might have something to do with targeting the President.
Starsky And Hutch (FX) 7:00 pm
Ben Stiller. Owen Wilson. Vince Vaughn. This is a ridiculous movie but if you can get past that, its actually pretty funny.
__________________________________________
Do you an idea for a column or just something to say? Scroll down and leave a comment!
Kelly joined CinemaBlend as a freelance TV news writer in 2006 and went on to serve as the site's TV Editor before moving over to other roles on the site. At present, she's an Assistant Managing Editor who spends much of her time brainstorming and editing feature content on the site.
Your Daily Blend of Entertainment News
Thank you for signing up to CinemaBlend. You will receive a verification email shortly.
There was a problem. Please refresh the page and try again.