Comic Con 2011: Saving The Best For Last, The Allen Gregory Panel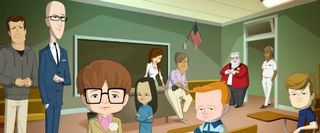 San Diego Comic-Con is something else. Hectic. Joyful. Infuriating. Amazing. Exhausting. In the middle of the roller-coaster of emotions and physical trauma, sometimes you get the chance to see something really special. This time it was my final panel of SDCC, focusing on the new animated comedy coming to Fox called Allen Gregory.
It was Sunday morning and I was a walking piece of garbage by this point. I had plans to explore the floor on my last day of the convention before remembering a little animation panel that was showcasing Jonah Hill's new show Allen Gregory, which follows, as Hill puts it, "the most pretentious seven-year-old on the planet" as he endures his first days in public school. The show is full of raunch, but underlying the series is a very basic and relatable premise: "being the odd man out and striving to fit in and make friends."
The panel included showrunner David Goodman alongside writers/creators Jarrad Paul, Andrew Mogel, and (star) Jonah Hill. Hill also voices the lead, Allen Gregory DeLongpre, and fellow actors Nat Faxon and French Stewart were also in attendance. The show will also feature the voices of Leslie Mann, Will Forte, and Jake Johnson (among others) but they couldn't make it to SDCC.
The show, even on a relatively shoe-string budget after only being given a seven-episode order from the network, looks great and is probably the best thing I saw all weekend. And on Saturday alone, I saw a lot (ballroom 20 for 10 hours, including the line-up...ugh). One audience member even wondered, "How can this pilot presentation look better than existing high-budget shows like Family Guy?" The panel was clearly excited to hear the praise and could only respond with a thanks, before crediting Bento Box Entertainment, the company in charge of the show's animation (as well as others, like Bob's Burgers).
Before reviewing the 10-minute pilot presentation that they screened for us, I want to spend a little time recapping the panel, because these talented dudes had unparalleled chemistry on stage, everything they said was hilarious, and for the most part they just insulted the other panelists. For example, the entire creative team (including one of the writers who asked a "fan" question) wanted to know if there was a Babes reboot in the works, maybe a feature film. Babes being a failed series that showrunner David Goodman used to write, Jonah chimed in on how well written the jokes were, saying that "they all revolved around how fat they were and what piece of furniture would break under their weight this week. A broken chair, oh, there goes the hammock."
Goodman got back at them, bringing up a failed feature film project that the three creators (Hill, Paul, and Mogel) were working on that fell apart because Jonah had to bail for another project. Since they all lived in the same building, "it could get a little awkward running into each other in the elevator. Then we came up with this [...] I made it up to you guys."
The Q and A portion began with a question about whether Hill would be bringing in his friends in the Apatow-crew, like Seth Rogen, to do guest spots. He said, "that would be a of fun, getting all our friends together to contribute to the show." It was a fair question, but when it was asked again, verbatim, two questions later, the panel began their attack, noting how "two-thirds of the questions now have been whether Seth Rogen is coming, we're off to a great start." Hill continues, saying they already have some guest stars lined up, and this season they'll be "[Jeff] Goldblum-ing the fuck out of an episode." They also said they were writing something for Ed Norton, which sounds awesome. A few seconds later Nat interrupted because he had a question of his own that he was dying to ask: "Will we get any guest stars? Like maybe Seth Rogen?"
I could go on about the in-jokes and laughs that came out of the panel, but let's get to the footage they presented, since it's what actually sold me on the show. Sure, creative people bantering is great, but it always comes back to the quality of the product, and this is quality. We were treated to the 10-minute pilot presentation they made to Fox. Not everything we saw will make it to air, which is too bad because there wasn't a moment I didn't enjoy.
Our lead character, AG (Hill called him "little Capote"), would be wholly unlikable except he's an adorable seven-year-old who, when pushed, reveals a real vulnerability behind his arrogance and crass defense mechanism. His father, Richard (Stewart), is a borderline sociopath who has forced a previously straight man, Jeremy (Faxon), to leave his family and become his trophy wife. Jeremy is the quiet moral center of the show, which is why he's constantly berated by everyone around him. The 10 minutes introduced the "high-society/New Yorker" aspect of the show before AG's first day of public school, when all his pre-conceived notions of himself and the world come crashing to reality, opening up the first hint of vulnerability: "Will the other kids like me?"
Not to spoil too much but some of the memorable moments include: well, every time good-hearted Jeremy is abused; the first time Allen Gregory meets Leslie Mann's Ms. Winthrop (or Jenna, which AG prefers to call her because she should recognize that "they are the exact same level of authority"... she disagrees); the moment he meets the love of his life, 70-year-old Principal Gottlieb -- shot in a hilarious dream sequence where the two, uh, get down silhouette style (yep, a seven-year-old and a 70-year-old do the nasty); and lastly, the sweet friendship that starts to develop between AG and fellow outsider Patrick. Everything is firing: the jokes, the characters, the animation...this is one to watch.
Allen Gregory debuts on Fox at 8:30 p.m. ET on October 30, right after The Simpsons' "Treehouse of Horror" episode...not a bad lead-in for a new animated comedy.
Your Daily Blend of Entertainment News
Thank you for signing up to CinemaBlend. You will receive a verification email shortly.
There was a problem. Please refresh the page and try again.