Complete Torchwood Collection Coming In July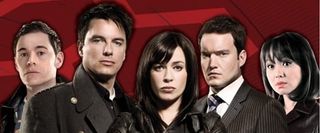 So you've been hearing the buzz about the new Torchwood series that's airing this summer on Starz, carrying the snazzy moniker of Torchwood: Miracle Day. You're intrigued enough to want to check out the previous seasons of the show, and you'd like to pick up one all-inclusive package. Good news, then: the BBC and Warner Home Video will partner to release Torchwood: The Complete Original UK Series on July 19th. That will give you plenty of time to get through the series before Miracle Day premieres on...July 8th. Wait, what? Damn it, things always get complicated like this when time travel is involved.
Well, the release date might not make much sense, but there will still be plenty of reasons to pick up the new Torchwood complete package. The set contains both of the first two Torchwood seasons, each clocking in at 13 episodes apiece, as well as the five-episode Children of Earth miniseries. Torchwood: The Complete Original UK Series will be available on both Blu-ray ($129.95) and DVD ($119.98), and will include around 10 hours of bonus features. The previous Torchwood releases had their share of bonus features, so that number may just mean they've repackaged all the previously released content. So it may not be worth upgrading if you already own the show, but it's certainly a solid deal if you're looking to add the show to your collection.
Torchwood is a spin-off of the highly successful modern relaunch of Doctor Who, but while familiarity with that show will add to the experience, you don't need to watch The Doctor's adventures in order to enjoy Torchwood. It's sort of the X-Files of the Who-niverse, following a super-secret team tasked with defending the Earth from alien threats. Cast leads John Barrowman and Eve Myles will be returning for Miracle Day on Starz, and will be joined by ER's Mekhi Phifer and Bill Pullman.
Image 1 of 2
Image 2 of 2
Your Daily Blend of Entertainment News
Thank you for signing up to CinemaBlend. You will receive a verification email shortly.
There was a problem. Please refresh the page and try again.