Conan O'Brien To Guest Star On Family Guy In Season 12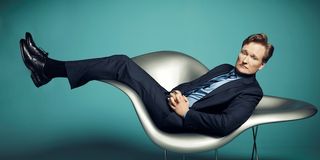 Conan O'Brien seems all about the cameos lately. The Conan host recently appeared on the new season of Arrested Development, and come next season, we'll see him in animated form when he makes an appearance on Family Guy. From what's being reported, it sounds like he'll be playing himself once again, as two characters from Seth MacFarlane's Fox animated comedy series get famous enough to visit the TBS talk show.
EW reports that O'Brien will appear in an episode next season when Peter and Quagmire pay a visit to the talk show. The episode will have the two characters discovering that they sing well together after a bee-related ordeal leads them to scream in perfect harmony. The two start a singing duo called Griffin and Quagmire and end up playing a music festival and eventually performing on Conan. The visit doesn't go as planned.
Family Guy may be a Fox show, but the animated comedy does air in syndication on TBS, so the nod to the basic cable talk show, complete with a voice-appearance by its beloved high-haired host - doesn't seem so far out in left field. And as EW points out, O'Brien did once write for The Simpsons, so given Seth MacFarlane's recent appearance on The Simpsons, Conan's planned appearance on Family Guy seems like a fitting bit of indirect crossover.
O'Brien joins Bill Maher, Michelle Dockery and Jeff Daniels among the celebrities set to voice roles in Family Guy in Season 12.
Your Daily Blend of Entertainment News
Thank you for signing up to CinemaBlend. You will receive a verification email shortly.
There was a problem. Please refresh the page and try again.