Constantine Adds Breaking Bad Veteran To Play This Supervillain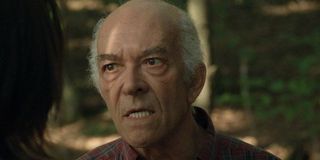 NBC's Constantine has been on a bit of a roller coaster with cancellation rumors and a shortened season. However, there is some genuinely exciting news coming from the show, as NBC has confirmed Breaking Bad alum Mark Margolis is set to play the classic DC character Felix Faust in an upcoming episode.
Margolis' episode will be called "Quid Pro Quo," and will center around John working to discover the evil behind a mysterious coma that has claimed the majority of Brooklyn residents. Comicbook.com reports that Margolis' episode is set to air on January 23.
Comic fans will certainly recognize the name Felix Faust, as he's been doing mystical shit around the DC Universe for decades as a notable Justice League villain. (How cool would it be to see Margolis' Felix Faust in a Justice League movie??) With such an uncertain future for Constantine, especially with the network capping Season 1 at 13 episodes, it is a bit of a good sign that the show is bringing in such a classic villain. Here's a shot of him in Batman: The Brave and the Bold.
If the showrunners truly felt the final nail being driven into the Constantine coffin, it would be an odd move to bring in such a recognizable name from the comic book universe. It has to be a good sign, bringing in more classic characters right? Right? The pessimistic view of adding a classic villain like Felix Faust to the show could be that this as more of a last ditch effort or a Hail Mary for Constantine. The show's future has been in question for some time now, as the ratings for the show simply haven't been great. However, with shows like Arrow and The Flash eating up ratings, it seems like this is a great time for comic book-inspired television shows. It stands to reason that by bringing in a name that DC comic book fans will recognize, and hiring Mark Margolis--an actor that fans recognize--it will bring in some viewers.
Margolis has been a busy man lately. In addition to his work on Breaking Bad as Tio Salamanca, Margolis was also the voice of Magog in Darren Aronofsky's Noah and Sam Goodman on American Horror Story. It will be interesting to see what such a powerful actor will be able to bring to the role of Felix Faust.
Beyond the fan reception, Constantine does seem to be holding its own next to NBC's other supernatural-infused show, Grimm. The fact that NBC is very clear to say Constantine is still very much in consideration for renewal makes it sound like the show has a great deal of support from the network itself. Besides, with DC attempting to grow its cinematic and television universe to rival Marvel--even being open to the idea of a crossover between characters from DC movies and TV shows--it makes sense that NBC would want to do everything it could to hang on to as many DC shows as possible.
For now, we will just have to wait to see what the network decides to do with the DC show. Constantine will return to NBC to air the final five Season 1 episodes on January 16 at 10 p.m. ET.
Your Daily Blend of Entertainment News
Thank you for signing up to CinemaBlend. You will receive a verification email shortly.
There was a problem. Please refresh the page and try again.