Could Adam Lambert Be The Next American Idol Judge?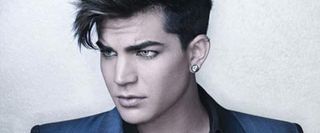 In 11 seasons on the air, American Idol has created only a handful of actual music superstars, but it's brought us way more colorful characters capable of hanging on to the pop culture spotlight far longer than their talent might suggest. There's the bad ones, like Sanjaya or poor WIlliam Hung, and then the just weirdly compelling ones, like Clay Aiken or, more recently, Adam Lambert. The eyeliner-wearing glamour puss missed out on being the actual winner in season 8, but by establishing his outlandish personality, eventually coming out as gay and launching his own music career, he's remained one of but a handful of former contestants with legitimate name recognition.
And now, having created him, American Idol may once again take advantage of that name recognition for themselves. E! News reports that producers are strongly considering bringing Lambert on as a judge for the show, potentially to replace veteran judge Randy Jackson. Lambert himself is calling it a rumor but also encouraging it, saying to British radio station Capital FM he would "jump at the chance" to be a judge," but that it's also a "beautiful rumor."
As it stands Jennifer Lopez has no plans to return, and Steven Tyler has said "all is up in the air" in regards to his own plans-- probably meaning he wants to be paid more to stick around. Lambert, being the youngest and least-established of the potential judge crew, would presumably cost a whole lot less, which might be a big part of the appeal.
And there's a snake-eating-its-own-tail logic to all of this-- the American Idol machine creates a "star," sets him out into the world, and then brings him back into the fold in order to help create more just like him. After all, Kris Allen-- the winner of Lambert's season-- was a likable but milquetoast winner who's gone on to little fame, while Lambert was a cultural lightning rod at the time and presumably still has the ability to rile people up. This long into its life, American Idol needs more attention-getters-- and Lambert might be exactly the guy to help make sure more of them make it through the system.
Am I crazy, or does this really make a lot of sense? Let us know in the comments below, and we'll keep you posted on whether this rumor actually turns out to be true.
Staff Writer at CinemaBlend
Your Daily Blend of Entertainment News
Thank you for signing up to CinemaBlend. You will receive a verification email shortly.
There was a problem. Please refresh the page and try again.