Courtney Cox Won't Be Digging Up More Dirt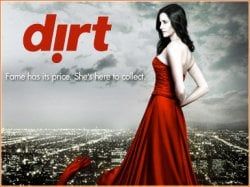 The scoop on Dirt isn't good. The Courtney Cox series about a tabloid magazine editor has just been canceled by FX. Cox told the news to TV Guide after being asked about the possibility of a third season. Dirt ran on FX for one full season. The series' second season was cut short by the writers strike.
Cox, who, in addition to starring, also produced Dirt with her husband David Arquette, says that despite the cancellation, all is not lost. "We're developing all kinds of stuff right now." Whether that includes more starring vehicles for the Friends alum remains to be seen, but we can probably expect something from Cox and Arquette to be hitting the air soon.
I only saw one episode of Dirt, and it didn't really grab me. I thought the concept was great—a tabloid target turning the tables—but the execution just didn't quite work for me. Should I have given it more of a chance, or does Dirt actually belong six feet under?
Your Daily Blend of Entertainment News
Your Daily Blend of Entertainment News
Thank you for signing up to CinemaBlend. You will receive a verification email shortly.
There was a problem. Please refresh the page and try again.