Criminal Intent's Kathryn Erbe To Guest Star On Law & Order: SVU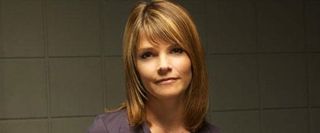 In a weird Twilight Zone sort of move, Law and Order: SVU has nabbed its most recent guest star, and while she does not come from a different universe, she does come from a different TV show. Former Law and Order: Criminal Intent detective Alexandra Eames has earned a guest stint on NBC's last running Law and Order program, SVU.
The actress who plays Eames, Kathryn Erbe, has not been too busy since Criminal Intent finished its run in 2011, with her only acting credit going to the little seen flick The Love Guide. Despite all of the free time, TV Line is reporting the actress is only set for one SVU episode, although if all goes well, she may be asked to return later in Season 14.
What is most difficult to grasp about this guest starring gig is how a plotline following some sort of sex offender will intertwine with the cases Detective Eames seems to be working. The answer is an explosive one. Apparently, Detectives Benson and Amaro will be busy uncovering a sex trafficking ring, when they realize the ring has larger ties to criminal terrorists, which is where Eames' new Homeland Security team will need to come in and clean up.
Clearly, this is a plotline where experienced detectives will be needed, and it will be interesting to see the dynamics between Eames' strong personality and Benson's tough cookie mold. The episode is set to appear in the first half of the season, and with any luck, we'll get to see the two women continue to work together professionally in episodes to come.
Law and Order: SVU's two-hour premiere airs Wednesday, September 26 at 9 p.m. ET.
Your Daily Blend of Entertainment News