Dana Delany Doesn't Know When Or If Katherine Will Return To Desperate Housewives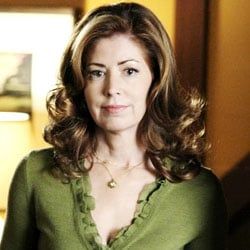 Last we saw of Katherine on Desperate Housewives she was ditching Wisteria Lane and heading to Europe to have some alone time with her new gal pal, Robin (Julie Benz). So what'll become of the show's new lesbian lovers? Katherine herself, Dana Delany, doesn't even know!
While promoting her new film Multiple Sarcasms, Delany revealed that she honestly doesn't know when or if she'll be returning to the show. "I could. It's all up in the air; I'll know in a month." When asked about the details of her deal keeping her attached to the show, Delany explained, "It's one of those they have a contract that all works in their favor. I have a contract with them, a six-year contract – actually, we added a year, so a seven year contract, I've done three of them, so they have the choice of bringing me back, but I don't have the choice of whether I stay or not."
Just in case they opt to ditch her character's scenario entirely, Delany has a back up plan. "I will either have a new show on the air that I'll be starring in, I'll be back on Desperate Housewives or I'll be out of a job and look for something else." That new show is what Delany calls a "procedural with character." She revealed, "I play a medical examiner on it."
And, of course, there was no escaping without getting hit by a question regarding the whole Nicollette Sheridan vs. Marc Cherry situation. According to Hollyscoop, as of yesterday, the suits at ABC were in talks with Sheridan trying to get her to exchange her $120 million lawsuit for some sort of "peace package." For those of you out of the loop on the neighborhood gossip, Sheridan is suing the show's creator claiming he slapped her during an argument and when she proceeded to complain about his behavior, was booted from the show. Delany's take on the whole thing? "Kind of baffled by it. I certainly didn't see that behavior." She added, "I hope it works out for her, I hope everybody gets what they want, but yeah, that was puzzling to me."
Your Daily Blend of Entertainment News
Staff Writer for CinemaBlend.