TV Review: Desperate Housewives Season 5 Premiere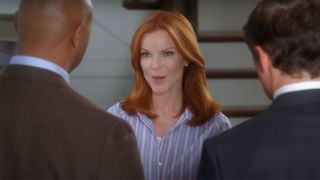 (Image credit: ABC)
Desperate Housewives - Fifth Season Premiere
Starring: Teri Hatcher, Felicity Huffman, Marcia Cross, Eva Longoria Parker, Nicollette Sheridan, Ricardo Antonio, Chavira, Dough Savant, kyle MacLachlan, Dana Delany, Neal McDonough, Shawn Pyfrom, Brenda Strong, James Denton, Joshua Moore, Kendall Applegate
Created By: Marc Cherry
Premieres: Sunday, September 28, 2008 at 9:00 PM ET on ABC
Desperate Housewives is like a whole new show… sort of. When last season ended, we saw the story jump forward five years. Kids are grown up, the housewives are still hot and the drama is different but in a way, kind of the same. As we're entering into the fifth season of DH, the jump forward could give the show a fresh start and a new direction, while at the same time, giving us the same comedy and drama we've come to love about the series.
This review is obviously going to contain some spoilers about the first two episodes of the fifth season of Desperate Housewives. As always, I won't post any major spoilers but read at your own risk!
So the women of Wisteria Lane have all aged five years, though for the most part you wouldn't be able to tell. Gaby is the only one who shows any signs of physical change and that has more to do with her frumpy attire and raggedy hairstyle. But let's face it, it would take a lot more than some unflattering outfits and frizzy hair to make Eva Longoria less than gorgeous. The point is, the former model is now spending most of her time chasing after her daughters (who, if you've seen the previews, are actually younger than they look) and helping out Carlos, who is just as blind as he was at the end of last season.
Lynette's kids are all five years older, putting the twins in their teen years. They were a handful when they were children and now that they're teenagers, they're even more trouble. Among the shenanigans they're getting into now is a secret casino night at their parents' restaurant, complete with bar service. Yeah. Tom and Lynette have their hands full with these two and considering they only have a few more years to instill good values in the boys, they need to get a move on it.
Bree has taken her domestic skills and turned them into a career. She's on her way to becoming the new Martha Stewart, only her success could come at a price. There are a few people in her life that are less than supportive of the fast-track she's on and I'm thinking by the way things are going, it's only a matter of time until someone finds a way to sabotage her rise in fame.
Susan's marital situation has changed and she's got a new man in her life. I really don't want to spoil anything for you so I won't say what happened to Mike but as for the new guy in her life, she's keeping him at arm's length. Or at bed's length as they're sleeping together a lot but she doesn't want more.
And as for Edie? Edie's back! Yeah, from our perspective she never really left but from Wisteria Lane's perspective, the blonde beauty left town after Bree, Susan, Lynette and Gaby finally shut her out. Now she's back and she's got a creepy new husband with creepy flesh-colored hair and his own reasons for wanting to live on Wisteria Lane.
Overall I have to say, I think the jump forward could be a good thing for the show. With so many crazy things going on in their lives, the move ahead will hopefully refresh the series and make room for new story arcs and more crazy (and often dark) drama to play out in the little cul-de-sac.
Your Daily Blend of Entertainment News
Assistant Managing Editor
Kelly joined CinemaBlend as a freelance TV news writer in 2006 and went on to serve as the site's TV Editor before moving over to other roles on the site. At present, she's an Assistant Managing Editor who spends much of her time brainstorming and editing feature content on the site.