Daniel Tosh Will Produce, Provide Voice For Comedy Central Animated Series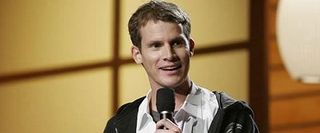 Animated series on Comedy Central have a long history, and the network has seen both mega success with South Park and some more questionable forays into the genre. The newest addition to the roster will be a series called Brickleberry and will be executive produced by current Comedy Central star Daniel Tosh, according to a Deadline report.
Tosh, whose series Tosh.0 draws laughs from a variety of internet videos and combines Tosh's commentary on the videos along with special guest appearances by some of the viral video stars, will be lending his voice talents to the animated series as well as producing. The series will take place in a National Park and feature a cast of park rangers with some major issues; storylines will revolve around the arrival a new park ranger on the scene just as the park was scheduled for closure who will attempt to pull together the group of misfits.
The new series will be written by co-creators Waco O'Guin and Roger Black of MTV2's Stankervision, and is a co-production of Fox 21 and Comedy Central. Kent Alterman, head of original programming and production at Comedy Central made the announcement of the 10 episode run for the series:
Tosh.0 has been in my opinion one of the best sources of real laughs Comedy Central has on the current lineup. Daniel Tosh's sarcastic commentary and willingness to humiliate himself on national television make the perfect hilarious combination. There's definitely a lot of talent going into this new series, but it's hard to say just how Tosh's comedic abilities will translate to voicing an animated character. Brickleberry, like all adult animation will have to walk that fine line between the juvenile and intelligent humor, and Comedy Central has definitely stepped off the line in the direction of juvenile in the past.
Your Daily Blend of Entertainment News