DeGeneres Could Be Very Good For Idol Hopefuls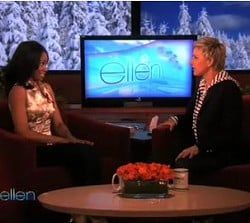 Ellen DeGeneres joining the judging panel of American Idol could turn out even better for the contestants than we imagined. Already, she's going out of her way to help a cast-off, and we haven't even gotten to the voting shows yet. This past Friday, she brought on three-time Idol hopeful Angela Martin and promised to help secure her a deal.
Maybe Kara DioGuardi felt bad for stealing Angela's seat, making the poor girl cry while balancing on the arm of it, because she's agreed to write and produce a song for her. If Angela's lucky, it will even be a good song.
Ellen is notorious for having a huge heart, and it's hard to imagine her sitting by week after week while these kids dreams are shattered without wanting to reach out to them in some way. I wonder if she's got a deal in place with FOX to allow the kids on her show shortly after they're booted from Idol.
Ellen doesn't have Oprah Winfrey's pull, but she could still do a lot to help someone in their career aspirations. I'd suggest the contestants spend most of their time working on singing the best that they can each week. But it wouldn't hurt to spend a little time schmoozing with the newest judge.
Here's the video of Martin's appearance on The Ellen DeGeneres Show, courtesy of MJ's Big Blog.
Your Daily Blend of Entertainment News
Your Daily Blend of Entertainment News
Thank you for signing up to CinemaBlend. You will receive a verification email shortly.
There was a problem. Please refresh the page and try again.