The Decade: Our Favorite Advancements In Television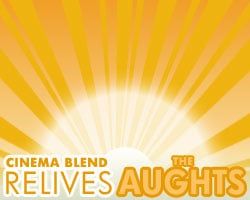 Since its creation, television has continued to evolve over the years, but looking back at the past decade, the small screen has made some huge strides not only with regards to the content that's available but also with how we watch TV. As we're approaching the end of the decade, we've decided to take a look at what the past ten years have brought to the medium as a whole.
Here are our favorite advancements in television from the aughts:
The DVR and TiVo - Is the tape rewound? You sure you set the time right? Did you remember to turn the VCR off after you set it to record? These are all issues we had to deal with back in the '80's and '90's but no more! The DVR has made recording TV shows much easier than the VCR ever did. It's the magic robot sitting under your TV waiting for your shows to come on so it can record them for you. And TiVo's service in particular has to get a mention here as it has set the bar for a quality TV recording service that's both reliable and user friendly. TiVo has changed the way I watch TV and I honestly don't know if I could go back to life without the service or my DVR.

The Internet - What's that you say? Al Gore invented the Internets way before the aughts? True, but it was in this past decade that the internet became so heavily integrated with our television watching habits. From chat rooms to message boards, fan clubs to the blogs we love today, the world wide web has allowed fans to unite for their love of television. It's also given them unprecedented power over programming. They utilized it to "save" Jericho from cancellation by coordinating a massive mail-in effort. Through spoilers, or leaked plot-points, the internet has even managed to change the course of some shows, with showrunners trying to keep one step ahead of their fans. Web spoilers also have the power to enrage fans who are using those DVRs to watch TV later.
Streaming Video, Hulu and iTunes - Gone are the days when we had to wait for reruns to catch up on our TV-watching or sample some new shows. More and more over the last few years, networks have been giving TV viewers the opportunity to watch their content online via their websites and ad-supported streaming video sites like Hulu.com. Fans can purchase and download their favorite episodes (legally) through iTunes. They've even gone so far as to create original web and downloadable content for these tech-savvy viewers.
Original Cable Programming - It's a good thing we have so many ways to watch our favorite shows now, because the past ten years has seen a near exponential growth in the number of quality original shows on television. While a few cable channels were dabbling in scripted original television prior to 2000, it was in this decade that everyone got in the act, and suddenly we had The Sopranos, Monk, The Shield, Battlestar Galactica and so many more original scripted shows on television. The growth has been so phenomenal, that while network television ratings have plummeted during this decade, cable is setting new ratings records almost every week. And without the FCC overseeing content, cable is where you find some of the edgiest and most compelling shows.
Reality TV - If that wasn't enough, the Aughts brought us an explosion into a whole new realm of television. There've always been documentaries, and shows like The Real World and Cops had been around, but it was Survivor that launched the reality genre as we know it. Now, for better or worse, you can see everything from competition, love, cooking, renovation, singing, dancing, rehab, driving, fishing and even the return of the prime-time game show. Even better for the networks, if not necessarily many reality detractors, most of these shows are much cheaper to produce than your typical scripted show, so if it resonates with fans, they're looking at a much higher profit margin.
TV on DVD - Sure, there were some shows available on VHS and maybe even on DVD back in the '90's, but over the course of the decade, TV on DVD has blown up to the point that not only are seasons being distributed on DVD within months of the season finale, but older series from decades past are regularly being released, giving fans a chance to celebrate the classics in addition to building a substantial library of series they'll want to revisit or marathon through on a rainy weekend.
The biggest drawback to all of this is that there's more great television than ever before, and it's all available for us to watch whenever we want. It's just a question of how many hours we can squeeze out of each day.
Relive more of the Aughts with us by clicking here.
Your Daily Blend of Entertainment News