Denise Richards Joins Blue Lagoon TV Movie Reboot At Lifetime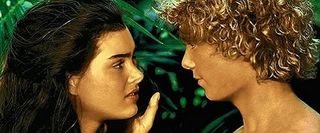 Blue Lagoon probably should have been a Lifetime movie from the start, and it's finally where it belongs with a reboot of the melodramatic coming-of-age film that is forthcoming from the network. And Denise Richards has just signed on for a role in the TV movie.
No, she's not trying to play the role that made Brooke Shields a star – even Hollywood's best makeup artists can't make us believe she's a teenager, although at 41 none can argue she does look really fabulous. Instead Deadline reports that she has joined the cast as the mother of the female-half of the missing duo who are busy living the tropical life and discovering all the fun things a teenage couple can do when marooned together for a long time. Two young Australian actors have been cast as the marooned couple – Indiana Evans and Brenton Thwaites. If you happen to catch this reboot, watch for a cameo appearance by original star Christopher Atkins. No sign that Brooke Shields will make a similar appearance.
Denise Richards, who managed to break loose of the Charlie Sheen train wreck a few year back, has been working on Blue Mountain State and has had a recurring role on 30 Rock recently. She also just finished filming one of those Tyler Perry Madea movies that seem to replicate themselves like Gremlins.
As for whether the world actually needs a reboot of Blue Lagoon, well, that is a matter of opinion I suppose, but either way we're getting one.
Your Daily Blend of Entertainment News