Desperate Housewives' Marc Cherry Defends Himself In Lawsuit Against Nicollette Sheridan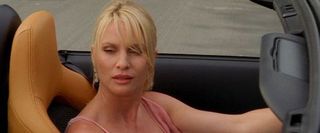 ABC's Desperate Housewives has had a dramatic and twisting story arch over its eight seasons, and it is sort of fitting now the show is nearing its end, a dramatic and twisting related story is playing out in the court system. Desperate Housewives actress Nicollette Sheridan is fighting a second lawsuit against the show that killed her off back in 2009.
To get into the deets really quickly: Nicollette Sheridan says Desperate Housewives creator Marc Cherry hit her hard, once. Allegedly, Sheridan is a legendary pain on set, but that is hardly deserving of a blow to the head. Sheridan didn't think so, either, so she reported the incident to ABC, which purportedly led to the dismissal of her character off of the show. Because of these shenanigans, Sheridan opted to sue ABC and Marc Cherry for sexual harassment as well as a sum of money that she feels she would have earned has she not gotten fired. That sum is 4.2 million.
Today, Cherry took the stand to defend hitting, errr "lightly tapping" Sheridan on the head during a backstage argument on the set of the show. The producer stuck to his guns for the duration of his questioning, stating plans to kill off Sheridan's character, Edie, were not due to the physical incident the two got into, but were due to budgetary concerns and wanting to "improve" the show for Season 6. According to Deadline in the coming days, everyone from producers, to writers, to actors are expected to weigh in on whether or not Sheridan deserves compensation for her loss.
It is a problem Sheridan really was struck by Cherry during the taping of the program. However, I am uncertain Sheridan's issues with Cherry wholly correspond with the fact she was killed off on Desperate Housewives. What really strikes me about this whole thing is Sheridan's seeming disregard for her own career. Even though she did not deserve to be hit, behaving like a real pain in Hollywood is unlikely to do her any favors in helping her to garner future gigs. Maybe the actress is hoping to sit pretty on the cool 4.2 million she is asking for.
The trial is expected to conclude no later than March 12.
Your Daily Blend of Entertainment News