Dexter Promotion Lets The Blood Flow Freely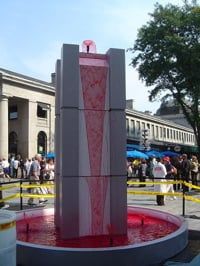 In the "who do they think they're kidding?" department, Showtime has set up fountains in cities all over the country that will spill red water, as a promotion for the second season of their show Dexter. Now, Dexter is a show about a forensics expert who is also a serial killer, and ads all over the country have shown the main character (Michael C. Hall) with blood spattered across the face. Now we have fountains spilling red water. A blood tie-in, you assume, right?
Why, no! "There is blood in the show, but we're not doing this to convey the notion of blood or horror because that would be off strategy with how we promote the show," insists George DeBolt, vice-president media and promotions at Showtime, speaking to The Hollywod Reporter. "Red is an important color for the network. It's our corporate color. Whatever people take away from this is what they take away, but we're using the color red so that it's noticed."
Uh, right. The fountains have been surrounded by caution tape that indicate a crime scene because the fountain of red liquid has nothing to do with blood. The picture at top right, taken by Caroline Roberts and posted at Bostonist gives a good idea of the genuinely-creepy marketing ploy. You can see the D.C. version at this Flickr site, and photos contributed from all over the country at the Flick site Showtime set up specifically for the event (the St. Louis one is particularly bizarre).
I meant to check out the fountain in Times Square, but given that I make an effort to go nowhere near Times Square if possible, and I was running late already after a screening of The Darjeeling Limited (blatant self-promotion for my write-up to be posted on this site soon!), I missed out. Now I realize I probably did myself a favor, given that I plan to sleep tonight. Mostly I'm just glad I'm not a schizophrenic who could have walked out the door and assumed, with water turning to blood, that the apocalypse is nigh.
Your Daily Blend of Entertainment News
Staff Writer at CinemaBlend