Dexter Season 6 Preview: Alpha And Omega, Plus Visit The Killroom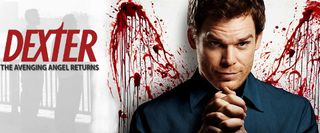 Dexter, Showtime's series about the titular serial killer with a code, is about to get its Season 6 premiere this weekend. Yes, hidden amongst all those new network hopefuls (and sure failures) is the return of our favorite forensic scientist who tends to take his work home with him... or his hobbies to work, either way. This Sunday, the killings and crime-scenes start up again and we've got a couple clips.
Kelly already dove into the first promotional clip for the Season 6 premiere which, SPOILER, finds our lead in a bit of a bloody pickle and calling the police for help. As noted, this isn't the first time Dex has found himself in trouble after a night on the town but this definitely seems like the most serious to date. The latest clip switches gears from the night-time seriousness to bright, day-time crime scene investigation where we're introduced to the M.O. of this season's killer? I wonder what's inside...
Oh, and if you want, you can also visit the newest addition to Showtime's Dexter website, so nicely titled, The Killroom Who doesn't want to take a trip to the Killroom? Seriously, it sounds kind of awesome in the context of the show.
Despite initial morbid hopes, you cannot drag a victim into the Killroom and do the full on Dexter. This is more like a museum. The Killroom not only features Dexter's big kills but, all of the series' various sociopaths work on display, from Brian Moser to Jordan Chase (with a few murderous stops along the way). Take the whole family, make a day of it, and enjoy the your tour.
Dexter returns to Showtime for its Season 6 premiere this Sunday, October 2 at 9 p.m.
Your Daily Blend of Entertainment News