Discovery To Air Special Where A Man Is Eaten By A Snake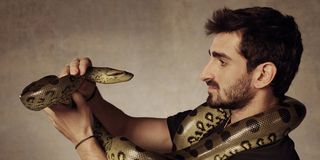 Discovery has been creating programming that is more event-based recently. Nik Wallenda's Chicago tightrope act aired live on the channel, and now the cable network is planning to get a little weirder with its newest special Eaten Alive, which will follow naturalist and wildlife filmmaker Paul Rosolie as he gets swallowed by a giant Anaconda.
That's right, the man above plans to literally get eaten by a snake. During the special, he heads into the wild to explore "a unique ecosystem" in order to search for an Ananconda that will then swallow him whole. Apparently, Rosolie has built a custom snake-proof suit that will allow him to neither be harmed when swallowed nor to have the snake be harmed when he does swallow Rosolie. It sounds pretty—nay extremely—gimmicky, but you can tell how serious Rosolie is in the first preview for the one-night event.
In the clip, Rosolie suits up in an extremely padded outfit. He also says, "We're gonna make me as appealing as possible, so the snake just says, 'Well, I got this big thing here. I might as well get a free meal.'" While we don't actually get to see how he entices the snake, EW mentions that the man will be covered in pig's blood to make him more appealing. Additionally, if you watch the video closely, you can see that rope-looking thing attached to the snake, which pulls Rosalie from the belly of the beast. It all seems relatively safe.
Apparently, the snake does go for the suit and pig's blood.
Obviously, the special has already been shot, so it will be less in-the-moment than some of Discovery's other outside-the-box reality premises, including the Wallenda challenges. Accordingly, Rosolie and the snake both made it through the special okay, so don't expect to see anything gross or gory during the tenure of the episode (if something had happened, Eaten Alive probably wouldn't have made it on the air).
Discovery Channel's Eaten Alive special will air Sunday, December 7 at 9 p.m. ET.
Amazing Race & Top Chef superfan with a pinch of Disney fairy dust thrown in. If you've created a rom-com I've probably watched it.
Your Daily Blend of Entertainment News
Thank you for signing up to CinemaBlend. You will receive a verification email shortly.
There was a problem. Please refresh the page and try again.