Discovery Celebrates Shark Week's 25th Anniversary This August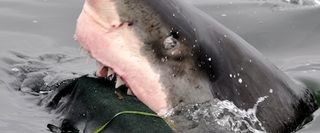 Once upon a time, when Discovery was still a relatively new channel, the network came up with an idea to engage their audience with Shark-related programming for a week during the summertime. And so began the annual tradition of Shark Week. Many look forward to this event all year, wondering what shark-related programming Discovery will have in store for them each summer. 2012 marks the 25th anniversary of Discovery's "Shark Week" and the network has big plans for the event, which is scheduled for August.
Discovery offers a bit of persecutive when addressing the topic of their annual event…
Isn't that what people love about Shark Week? It's an opportunity to get up close (but not personal) with sharks from the comfort and safety of our living rooms. Among the programming set to be featured on Discovery for Shark Week 2012 is Air Jaws Apocalypse, a special that picks up where 2011's Ultimate Air Jaws left off, with shark expert Chris Fallows and natural history producer Jeff Kurr on another dangerous adventure to learn about sharks. Meanwhile, Shark Fight will focus on people's encounters with sharks and how they managed to survive the attacks.
Discovery Channel teamed up with Stanford University (led by Dr. Barbara Block) in an effort to tag and track great white sharks off the coast of California. You'll see that Great White Highway, the special that chronicles their efforts to see where the predators are migrating and what they're getting up to. It should be fascinating to see what they manage to learn from their attempts.
Here's some additional programming information for this year's Shark Week…
Shark Week kicks off August 12th. For those who want to keep up on the latest updates and scheduling information, Discovery already has the Shark Week website up and running. There's also a free Discovery Channel mobile app that you can download, which has a Shark Week section on it. Follow Shark Week on Twitter @SharkWeek and like on Facebook here.