Doctor Who's Next Companion Might Get A Huge Change, Here's The Latest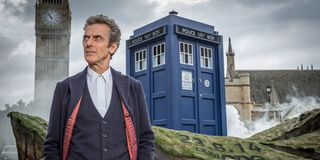 For a show that's been around since 1963, Doctor Who has no problem feeling like a very modern show. Now, some of that is undoubtedly due to the time and planet-hopping nature of the series, but, overall, the show always manages to feel like it's a product of whatever time the episodes are airing in. The producers and current star, Peter Capaldi, however, feel like there's something they could do to make the show feel even more current: have The Doctor traverse time and space with a non-white companion. Here's what Capaldi had to say when asked if the show was interested in multi-cultural casting for the role.
Peter Capaldi spoke with Newsweek and shared his feeling on the idea of getting an actor other than their usual to fill the all-important companion role on Doctor Who. Capaldi feels that the show is better off reflecting "the culture and the times that it's in," and part of that, for him and the showrunners, means at least considering the thought that The Doctor wouldn't always find his ideal companion in a white woman.
In case you just started watching Doctor Who, or watched many years ago and haven't kept up with the show lately, The Doctor did, recently, have a non-white companion. In 2007, two years after the rebooted Doctor Who began, the Tenth Doctor takes Martha Jones as a companion, a young woman with African ancestry. Martha was a medical student who helps The Doctor save the day when the hospital she works at is transported to the moon. While the character made appearances in the 2008 season of the show, she was only The Doctor's full-time companion for one season.
Because of the time travel aspect of the show, the Martha Jones season was able to deal with issues of race in a very straightforward manner. In "The Shakespeare Code," Martha worries that her presence in Elizabethan England won't allow her to behave as freely as she would like in order to help The Doctor on his quest. Unsurprisingly, it ends up not being a problem, but the fact that the show took the opportunity to bring up the issue is admirable.
While Doctor Who may not yet be in the habit of regularly using actresses who aren't white, it's good to know that they are open to it. A recent casting rumor said that the show was considering EastEnders' Rakhee Thakrar, a British-Asian actress, to fill the companion role, so we might just end up with another non-white traveler to assist The Doctor next season.
Bachelor Nation, Gilmore Girl; will Vulcan nerve pinch pretty much anyone if prompted with cheese...Yes, even Jamie Fraser.