Dr. Horrible's Sing-Along Blog To Air On The CW This Fall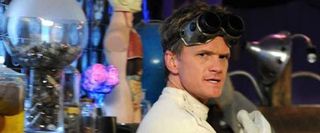 I suspect it may be network TV's bias against or fear of horses that has kept Dr. Horrible's Sing-Along Blog from being broadcast on television. It's the only explanation I can think of, despite having zero evidence to support the theory. Thankfully, the CW appears to be seeing past its presumed fear of the Thoroughbred of Sin to correct that situation, as the network announced today that they will be airing Dr. Horrible this fall.
For those of you who have missed this gem of a musical, Dr. Horrible's Sing-Along Blog is a web series that debuted back in 2008. Created by Joss, Jed and Zack Whedon, in addition to Maurissa Tancharoen, the 42-minute story was broken up into three parts and starred Neil Patrick Harris as an aspiring villain who kept a video blog to document his attempts to defeat his arch-nemesis, known hero Captain Hammer (Nathan Fillion), and win the heart of the good-doing Penny (Felicia Day). There were songs, epic battles, and a conclusion that only someone like Whedon can deliver and leave us as satisfied as we are devastated. It's funny and charming, the music is great and it only gets better with each re-watch.
It seems fitting that The CW be the place where Dr. Horrible makes its TV debut, as the network was once the home of two of Whedon's most successful series, Buffy the Vampire Slayer and Angel, which aired on UPN and The WB (the networks that went on to become the CW). According to the CW's announcement, Dr. Horrible's Sing-Along Blog will air Tuesday, October 9 (9:00-10:00 p.m. ET). If you've never seen it, mark your calendar and prepare for awesome. And Horrible.
Your Daily Blend of Entertainment News
Thank you for signing up to CinemaBlend. You will receive a verification email shortly.
There was a problem. Please refresh the page and try again.