Dunder-Mifflin Devotees Head to Scranton for Office Celebration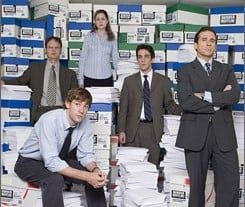 Here's something I never thought I would type: Who's up for a road trip to Scranton, PA for a three-day party!?!?
According to the Associated Press, the real home of the fake paper company seen on NBC's The Office, will be welcoming thousands of fans of the series this coming weekend. Scranton Mayor Chris Doherty sees the convention as a way to show Scranton's booming economy and, "The show has been the vehicle by which we can tell our story, and cities rarely get that opportunity."
The website for the event details the activities Office-ites can expect once they reach Scranton, which is about 100 miles north of Philadelphia. These include a character look-alike contest, an Office Olympics, and a concert by the Scrantones, who wrote the show's theme music. Also, Al Roker will be broadcasting live from the University of Scranton during The Today Show to launch the festivities. I cannot, however, report that there will be an appearance by Scrantonocity, the city's premiere Police tribute band.
What I can tell you is that a number of cast members from the show will be there as a way of saying thanks to the fans. Appearing at the Office Convention are, among others, Ed Helms (Andy), Angela Kinsey (Angela), Melora Hardin (Jan), and Leslie David Baker (Stanley). So far, none of the actors who play the main characters, Steve Carell, Rainn Wilson, John Krasinski and Jenna Fischer – are scheduled to appear. Also, the writers of the show will be having Q&As throughout the weekend.
Right now, according to the organizers, over 2,000 tickets for the various events have been sold, with more than 70% of the attendees coming for out of town. If the event succeeds as well as it seems it will, this could be an annual event for both Office fans and for the city of Scranton. Let's hope they don't transfer the event to Stamford.
TV Blend will be attending the convention so stay tuned for more coverage on the event, which is set to take place this weekend!
Your Daily Blend of Entertainment News