Eric Mabius To Flee The Earth For BBC One's Outcasts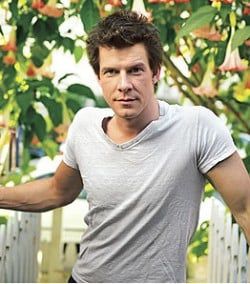 From UB to UK, former Ugly Betty co-star Eric Mabius is following his character to Britain. Mabius has been tapped to star in Outcasts, the latest sci-fi venture for BBC One. It looks like the series is yet another spin on the biological apocalypse that beset the cast of the recently canceled Survivors. It even has a similar name.
But, whereas Survivors followed their continuing journey on Earth, Outcasts jumps ahead to the year 2040, and follows 50,000 survivors to a life-supporting planet in a nearby solar system, according to Deadline Hollywood. Suddenly, I'm thinking of Earth 2. We need a good end-of-the-world series in America (other than AMC's forthcoming The Walking Dead); why are the Brits getting all the fun?
As for Mabius, he's actually headed to South Africa, where filming is scheduled to begin next month. He'll be playing the vice president of the evacuation program. As much as I'm sure I'll support this new series and give it a try, because I love me some post-apocalyptic shenanigans, it's disappointing to see BBC One trading one apocalypse for another. Especially when Survivors is leaving us on a cliffhanger (American audiences will get to see the de facto series finale tonight on BBC America).
It'd be like an American network dropping one medical, legal or police procedural only to replace it with another -- oh wait, they do that all the time. I guess it's okay, then.
No word yet on whether BBC America, or some other US station will pick up the series.
Your Daily Blend of Entertainment News
Your Daily Blend of Entertainment News
Thank you for signing up to CinemaBlend. You will receive a verification email shortly.
There was a problem. Please refresh the page and try again.