Eureka Survives For A Fifth Season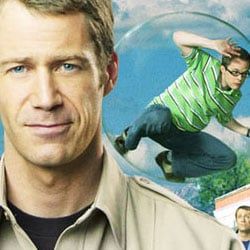 There's a lot to about love Eureka. It's one of my favorite shows. It's playful, quirky, and oh so fun. So you can imagine my elation when Blastr reported that Syfy's Executive Vice President of Original Programming, Mark Stern announced that the show had been picked up for a fifth season.
The writers and producers for Eureka have really stepped up their game this season with the addition of BSG alum James Callis as Dr. Trevor Grant, the whole time travel/alternate timelines story, and Warehouse 13 crossover episodes. Besides, it doesn't hurt that they dropped that whole annoying Degree deodorant product placement stuff which bogged down the previous seasons.
While the fourth season is still in full swing, there's a lot more fun to be had in America's smartest little town. Upcoming season 4 guest stars include Stan Lee, Ming-Na, Jaime Ray Newman, Chris Parnell, Matt Frewer, Felicia Day and Ed Quinn, who will reprise his role as Nathan Stark.
Your Daily Blend of Entertainment News
Thank you for signing up to CinemaBlend. You will receive a verification email shortly.
There was a problem. Please refresh the page and try again.