FX's It's Always Sunny in Philadelphia Takes A Family Portrait For Season 7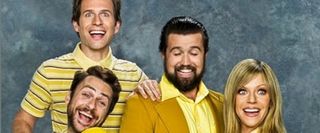 We shouldn't be surprised at how bizarre, hilarious, and ultimately effective the marketing materials for the upcoming season of It's Always Sunny in Philadelphia turned out. They are a perfect reflection of the show's way-left-of-center humor and its oddball yet lovable characters that comprise this weird extended family, or extended family of weirdoes. So this latest poster fits like a glove, an awkward "Sears-ish" family portrait. How touching?
Last week Kelly posted the first set of inspirational teasers (read: hilarious parodies) for the seventh season of the FX staple. To be fair, they serve as inspiration to those indie comedians and writers because this show basically grew out of nothing on a nothing network (sorry FX) and made itself a phenomenon. I deliberately avoided it for a couple years because it just seemed low-budget and low-quality and low-comedy. It's none of the above...well, it's still kind of low-budget, although as the series grew into FX's flagship, the money started flowing a little more freely. Adding Danny DeVito didn't hurt either.
Anyways, after watching those teasers and being sufficiently inspired, prepare to gaze upon the wonder that is a loving family, in what is one of the creepiest family portraits I have ever seen...and let's face it, they're all kind of creepy. I will say one thing, it makes me want to see what these crazy kids are up to this year (especially with Mac being Fat Mac). Take a look at the pic and try not to laugh and/or be a little disturbed.
It's Always Sunny in Philadelphia returns for Season 7 on September 15th on FX. Prepare to be inspired.
Photo via Vulture [and Pop Culture Brain]
Your Daily Blend of Entertainment News