Firefly Flies Again In New Stories By Original Writers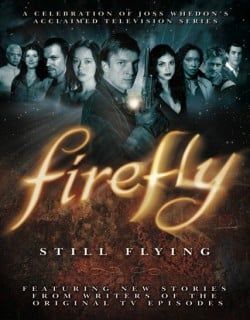 Firefly may be long gone as a television series, but that doesn't mean its rabid fans, or Browncoats, have to ever really say goodbye. In a new book coming May 2010, not only is the series spotlighted with new photos and behind-the-scenes stories, but fans are treated to new stories written by the original series writers.
It's a way to expand the Firefly universe without having to fork over tons of money for another feature film. Unlike many other recent series that were canceled before their time, including creator Joss Whedon's Buffy the Vampire Slayer and Angel, Firefly hasn't continued in a big way as a comic book series. There have been but a few Serenity (the name Firefly took when it transitioned into a feature film) comic books, but for the most part, the future has been quiet.
By lining up series writers like Jane Espensen, Brett Matthews and Jose Molina to contribute these stories to Firefly: Still Flying, the editors have ensured that these will be as close to new episodes of the cult favorite series as fans could hope for. The $19.95 hardcover book also features a special illustrated contribution by Bed Edlund, creator of The Tick, entitled "Fun with Dick and Jayne," which promises to be just as crazy as it sounds, as reported by Sci Fi Wire.
The book is rounded out with a wealth of information for fans, as well as a tribute to their loyalty. Browncoats will find storyboards, production design art, a special on Nathan Fillion's legendary practical jokes and an on-set shot of the last ever filmed scene from the series. The book promises to continue a strong tradition of Firefly-related material selling out like crazy, leaving Browncoats to wonder what it's going to take to get another movie made, or a return of the TV series, or an ongoing book series of in-continuity stories, or maybe more regular appearances on comic book racks. Something, already!
Your Daily Blend of Entertainment News
Your Daily Blend of Entertainment News
Thank you for signing up to CinemaBlend. You will receive a verification email shortly.
There was a problem. Please refresh the page and try again.