First Extant Trailer Puts Halle Berry In Space And Humanity Possibly In Peril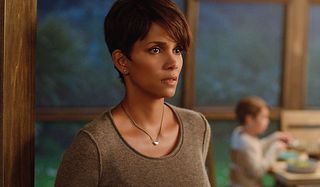 With their upcoming sci-fi drama Extant, CBS has been holding plot details pretty close to the vest. But we now have our first trailer for the summer series. The thirty second spot is more of a teaser than it is a full trailer, but it does offer us some footage from the drama, including a few glimpses of Halle Berry in space.
The 13-episode drama is described as a mystery thriller which focuses on Halle Berry's character Molly Watts, an astronaut who's trying to reconnect with her family after she gets back from spending a year in outer space. "Her mystifying experiences in space lead to events that will ultimately change the course of human history." As the trailer -- via EW -- implies, part of the drama involves Berry finding out she's pregnant, and her son possibly warning her that human extinction may be in the cards in the near future. Or he's just drawing pictures.
CBS released a teaser for Extant focusing on life and how it "always finds a way." Does that life tie into what Berry's character Molly is carrying in her womb? Or is it the human life that her son is trying to protect in his space ship drawing? We can only guess.
In the meantime, there may be more to that child than meets the eye. He looks like a regular adorable kid, but previous casting updates hint that Molly and her husband John's son Ethan is some kind of "robot prototype." So far though, nothing from the information CBS has officially released gives us anything to go on there, but the trailer does imply that there's something special about the boy.
Extant stars Halle Berry, Goran Visnjic, Pierce Gagnon, Kiroyuji Sanada, Michael O'Neill, Camryn Manheim and Grace Gummer. The series, which premieres July 9 on CBS and will also be made available on Amazon Prime this Summer.
Image 1 of 5
Image 2 of 5
Image 3 of 5
Image 4 of 5
Image 5 of 5
Your Daily Blend of Entertainment News
Thank you for signing up to CinemaBlend. You will receive a verification email shortly.
There was a problem. Please refresh the page and try again.