First Look At William Shatner's Star Trek Doc The Captains, Plus A Chris Pine Arm Wrestle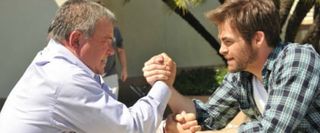 Last week a fantastic image showed up on the internet and no, it had nothing to do with Kim Kardashian's xeroxed behind. At first people weren't sure of the veracity of this epically geek-chic photograph of the Captains Kirk arm wrestling (pictured above) but it was soon confirmed that these two fearless leaders were indeed battling for bicep supremacy, or just to lighten the mood pre-interview for William Shatner's new documentary, The Captains.
The original Kirk has decided to continue his exploration (exploitation) of all things Star Trek, this time by filming a documentary that finds the Shatner interviewing all of the former ST captains (and not just those who commanded the signature Starfleet vessel, The Starship Enterprise). And that's where the arm wresting comes in, as explained in this Shatner interview by Canoe.ca,
Still no mention of who prevailed but I bet Chris Pine let the old man win. Shatner's documentary, aptly titled, The Captains, will air on EPIX HD on July 21, 2011 and here's the first trailer.
I must admit, I'm not the biggest 'Trekkie' but this does look like a pretty entertaining film and Shatner is so charismatic it's hard not to want to watch him.
William Shatner's documentary The Captains premieres on July 21 on EPIX HD as part of their "Shatner Palooza!" programming from July 21-30, 2011. As mentioned he interviews all the the five Star Trek captains including Pine, Kate Mulgrew, Patrick Stewart, Avery Brooks and Scott Bakula.
Your Daily Blend of Entertainment News