Flight Of The Conchords Grounded At HBO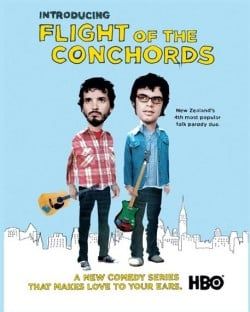 It looks like it's two and done for HBO's Flight of the Conchords, according to Zap2It. Rather than the network canceling it, though, this was a decision made by the creators, so while the show may be ending, the real Flight of the Conchords lives on. Like Larry David's Curb Your Enthusiasm, Jemaine Clement and Bret McKenzie play fictionalized version of themselves. In reality they are the real group Flight of the Conchords.
It looks like the music may have played a factor in it as well, as the group began to feel the pressure of trying to come up with music at the pace of a television production, rather than as inspiration dictates. There was a 16-month gap between the first and second seasons so they could get to a comfortable place musically to complete the season.
It's a shame the series has to end after only 22 episodes, but it's honorable of Clement and McKenzie to end it on their own terms. Both have declared they are pleased with how things were left, and are satisfied with the product as a whole. And just as they were starting to get some critical acclaim.
The consolation we have is that this is by no means likely to be the last we see of the duo. It may, in fact, not even be the last we see of Flight of the Conchords. It's just the end of their fictionalized adventures on HBO. What would you like to see next from them? Another Conchords project, or something completely different?
Your Daily Blend of Entertainment News
Thank you for signing up to CinemaBlend. You will receive a verification email shortly.
There was a problem. Please refresh the page and try again.