Flipped Star Madeline Carroll Joins The CW Pilot Blink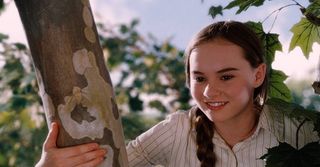 The CW has cast one of the leading roles for the drama pilot Blink, about a man in a coma and the family left to deal with it. Flipped star Madeline Carroll has signed on for the role of the teen daughter Ari on the offbeat drama with something of a fantastical aspect to it.
Blink surrounds the family of a man who lands in a coma following a car accident, and although his family is not aware of it he's still able to hear and see everything going on around him. The storyline intersperses fantasy sequences in which the father provides backstory and counterpoints to the current story of his family, all the while narrating the plot. Deadline says Madeline Carroll is set to play a teenager with an "old soul" who finds herself struggling to deal with her father's coma-like state and spends much of time at his side at the hospital.
Carroll has been acting since she was a child and has appeared in the Jim Carrey film Mr. Popper's Penguins as well as with Kevin Costner in Swing Vote and the Jackie Chan movie The Spy Next Door. She had a starring role in the Rob Reiner movie Flipped in 2010. Her television credits include NCIS, Grey's Anatomy and Lie To Me, but this would be her first regular role if it goes to series. Blink comes from Smash's David Marshall Grant and is written by Awkward writer Vera Herbert. The series is one of several high-concept pilots ordered by the CW this season, and is described as a "warm, quirky, humorous drama".
Your Daily Blend of Entertainment News