Fox's Bones Brings A Bundle Of Joy To New Episodes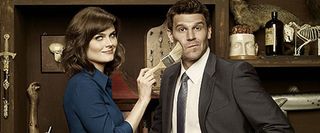 Fox's hit crime drama, Bones, has been missing from the network's regular primetime schedule for a few months, now. Despite various nights of nail biting and a concern I would never be able to make it to April, the time is nearly upon all faithful viewers. Bones will return to Fox's regularly scheduled lineup on April 2 and the network has even added a few extra episodes to keep the show on air for a little longer this spring. Because of this, audiences will have some interesting episodes coming up, and creator Hart Hanson has been all to willing to let us in on a few SPOILERS.
Monday's episode will begin on a note fans have been waiting to see for awhile. Bones has been super pregnant for so long on the show, the jokes were starting to get a little old. Luckily, Monday's episode will see the arrival of little Christine, which will cause a slight change in the nature of Booth and Brennan's relationship. According to Hanson as reported by TV Line, an incident involving a child victim will then cause Bones' emotions to go a little haywire.
It will be nice to see Brennan flesh out her emotional capacity a little bit, and I wonder if the change will affect her behavior with the rest of the cast. Since, Hanson also revealed Angela and Bones will be able to spend more time together later on this season and viewers will be able to see some touching moments between the two friends before Season 7 is over, I wouldn't be surprised if the change was for the better, even if it does change Bones' comedic timing a little bit.
On one final note, Bones will no longer air in its cushy Thursday slot. Instead, the show will move to Mondays, where it will air on Fox at 8 p.m. ET.
Your Daily Blend of Entertainment News