Fox Picks Up Comedy Project That Sounds A Lot Like Ally McBeal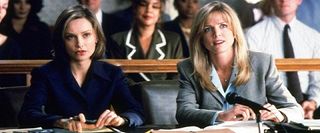 Fox has picked up a new project that brings back memories of Ally McBeal. After a bidding war, the network landed the rights to a currently untitled comedy project centered on a 30-something female lawyer that is described as "edgy" and "twisted". Sounds good to me.
The project comes from the Parenthood team of Jason Katims and Sarah Watson, and takes place in a Chicago law firm. Fox was one of three networks who bid on the project, according to Deadline. Universal Television is producing the project, the same studio that was behind Fox's just-ended House and the new comedy The Mindy Project that hits the air this fall.
The quirky character of Ally McBeal is one that has gone down in television history as much for the oddness of the series (think dancing babies) as for Calista Flockhart's rail-thin frame that led to constant rumors of anorexia. McBeal was a female-audience draw on a level rarely matched on network television. There have been plenty of female attorneys on television before and since, of course, by McBeal herself stands out from the pack. With this new project already drawing comparisons to that show and character even in this early stage, it's being set up for a tough uphill battle to live up to that comparison. The description of the show is certainly part of the comparison. Ally McBeal was certainly edgy and twisted at its best, in a way we hadn't really seen before on television. It might not be doing this new project any favors to call on McBeal comparisons, but it doesn't look like they will have much choice. How much they actually resemble each other is yet to be seen.
Your Daily Blend of Entertainment News