Fox Picks Up Kevin Bacon Thriller The Following And Medical Drama Mob Doctor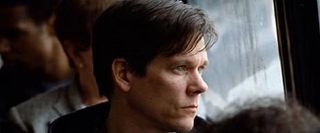 Could this be a replacement for House? Fox has picked up a new medical drama, The Mob Doctor, which will feature a female lead this time; Jordana Spiro of My Boys is the star. Fox is also adding a thriller starring Kevin Bacon to the lineup with The Following.
The Hollywood Reporter says that Fox has gone ahead with the new medical series, in which Jordana Spiro will take on two doctoring jobs. Her day job is as a thoracic surgeon working in a top Chicago hospital with a career on the rise. She's also forced to moonlight as a doctor for the mafia when she finds herself on the wrong end of a mob debt. Accodring to our previous information about the pilot, the debt she has to repay isn't even hers – it's her brother's. Talk about family loyalty. Also starring are Zach Gilford and Willaim Forsythe.
Along with The Mob Doctor, Fox has also reportedly picked up another drama, The Following, which stars Kevin Bacon as an FBI agent who sets out to catch a serial killer. The killer has spawned an entire cult of serial killers, which I imagine makes for a fun task for the FBI agent. James Purefoy will play the mastermind killer. Considered a shoe-in from the start, the thriller hails from The Vampire Diaries Kevin Williamson.
Fox is in need of some hits in the drama department, and either of these could be the answer; there's some good casting and promising storylines. As to whether a mob doc can replace Dr. House, well, that will have to be a matter of opinion.
Your Daily Blend of Entertainment News
Thank you for signing up to CinemaBlend. You will receive a verification email shortly.
There was a problem. Please refresh the page and try again.