Fringe Finally Teases Here Is Peter Bishop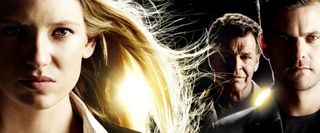 When Fringe, the best science-fiction television show in some time, was moved to the Friday death slot last year, the worrying began immediately. They don't call it the death slot for nothing but come time for renewal, Fox blessed us with another season of Fringe and while the episodes are anything but disappointing, the ratings continue to be just that, as the numbers are slowly, but surely dropping (opens in new tab). Hopefully, this new ad sparks some excitement because, finally, "Here is Peter Bishop."
That's right, after a summer marketing campaign that was off the charts, especially when it came to the show's "Where is Peter Bishop" (opens in new tab) promotional spots that kept building the suspense as to just where our hero might have gone in the Season 3 finale. It seems like this week we might finally delve into some of those finale cliffhanger issues, after what has been an interesting (if momentary) return to its original procedural format, with Lincoln Lee (Seth Gabel) playing a Peter substitute. But who wants a substitute when the real thing is out there... somewhere.
The return of Peter might mean the return of some of the wavering fans, something that Kelly suggests (opens in new tab) might be the only way to ensure the show's survival and I'm not inclined to disagree. It is demanding. It is almost impossible to just jump into the series mid-stream (even if this season oddly resembles the start of the series, that is, until this week?) because of its complex narrative, which moves fast. Actually, I can't think of another show that flies through plot like Fringe, however, it is worth going back! For once, let's save a great show before it get canceled.
Fringe airs every Friday night at 10 p.m. on Fox.
Your Daily Blend of Entertainment News