Game Of Thrones Officially Renewed For Seasons 5 and 6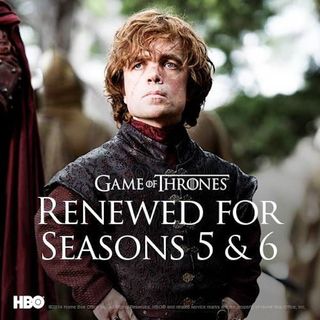 Given the talk we've heard about plans for the later seasons of Game of Thrones, it shouldn't come as a major surprise that HBO is set to move forward with the small screen adaptation of George R.R. Martin's popular fantasy series. And yet, HBO has made it official today, announcing the renewal of Game of Thrones for Seasons 5 and 6. The 2-season renewal news came from president of HBO Programming, Michael Lombardo, who went on to state:
And this news arrives just a couple of days after the series returned for its hotly anticipated fourth season, which aired on the premium cable channel last Sunday night. As HBO's announcement notes, the Season 4 premiere of Game of Thrones was watched by an average of 6.6 million viewers on Sunday, April 6, up significantly from last season's premiere and the Season 3 finale as well. The Game of Thrones Season 4 premiere is also the network's most-watched program since The Sopranos wrapped up in 2007 to an audience of a whopping 11.9 million viewers. While it seems like nothing's going to come close to that, at the rate Game of Thrones is going, I wouldn't be entirely surprised if the series managed to inch up to The Sopranos' closer with each passing season. And now we know there are two more coming after this one.
In comparing one HBO drama's popularity to another, it's especially worth noting how accessible Game of Thrones is for HBO subscribers looking to get caught up. Sure, HBO had an On Demand feature available at some point during The Sopranos original run, which would have allowed people to get caught up between seasons (especially when some of those seasons took longer to come than others). But HBO Go gives people a bit more flexibility -- and ease of use -- than the cable provider's On Demand option. So again, if Game of Thrones' popularity continues to grow over the next few years, I won't be surprised at all.
Martin currently has five novels published in the "Song of Ice and Fire" series, including A Game of Thrones (Season 1), A Clash of Kings (Season 2), A Storm of Swords (Season 3 and 4), A Feast for Crows and A Dance with Dragons. He's also working on two more books, the next of which is The Winds of Winter, which fans are eagerly awaiting. In the meantime, there's clearly no shortage of source material for HBO's series to work with for the time being.
Read our review of Season 3's 'Two Swords' here, and check out the preview for next Sunday's episode here.
Image courtesy of the Game of Thrones Facebook page.
Your Daily Blend of Entertainment News
Thank you for signing up to CinemaBlend. You will receive a verification email shortly.
There was a problem. Please refresh the page and try again.