Game Of Thrones: What Happened To Sansa And Theon After The Big Jump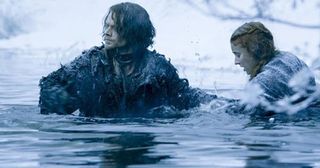 Spoilers for tonight's Game of Thrones Season 6 episode "The Red Woman." If you haven't caught the premiere yet, go ahead and check out one of our other lovely articles.
If you've been keeping up on everything HBO has released related to Game of Thrones Season 6, the fact that Sansa survived her jump with Theon/Reek off of the walls of Winterfell should not be a surprise. We've seen footage of the two escaping and heard the hounds hot on their tails, but what we haven't known is what happened to Sansa once she and Theon reached the river near the castle. For a while things looked dire for the odd pair of characters, but then none other than Brienne and the loyal Podrick came to the rescue.
Here's what happened. As we saw in the river-oriented clip, Theon convinced Sansa to rush across the river in the cold. It was snowing in the north and already cold, so after crossing the river, the two were slow-going. When their captors arrived, Theon bravely tried to pretend Sansa had died in order to give her a fighting chance, but she was caught. Then, without further ado, Brienne and Pod appeared on the scene and immediately gave Gwendoline Christie more to do than we saw during the majority of Season 5. Pod and Brienne both capably took down some of Ramsay Bolton's foot soldiers. Then, Theon was given one more moment of glory when he picked up a sword and saved Pod from dying with one vicious thrust of his weapon.
You would think this wouldn't be the greatest scene of the episode, but it gave so many well-liked characters so much more to do than they usually get. Sansa was able to show a strong moment of leadership when Brienne vowed loyalty to her. Though she stumbled, it seems as if she is on a path to be a much different character moving forward. She has really loyal allies for the first time in a long while. Brienne and Pod both were able to use their fighting skills, save the day and declare to be loyal vessels. But the true hero of this scene would have to be Theon, who has been given little chance to redeem himself over the years. Ramsay has spent so much time breaking him that Theon has been a craven character for seasons and seasons. Yet, here he convinced Sansa to do what was tough when they were crossing the river. He helped Pod to avoid nearly certain death. Maybe most importantly, he tried to sacrifice himself in order to save Sansa when Ramsay's men were on their tails.
Theon is no longer the cocksure young man who can't figure out his loyalties. He's also no longer a slave to a man who tortures and terrifies him. If he, Brienne, Pod and Sansa can continue to move forward, he should be changing and growing as time goes on. The times, they are a'changing on Game of Thrones and we can't wait to see what that means for the series.
After one episode, it is difficult to tell what is going to happen on HBO's fantasy drama, especially now that the show has sashayed past George R.R. Martin's writings. However, we do have a clue or two at our disposal. In the final trailer for Season 6, we saw Sansa dressed in furs and Stark armor like some sort of she-warrior. After Episode 1, there's no context for where that story is going, but thanks to Brienne, the eldest daughter in the Stark family now stands a fighting chance of becoming a stronger character. Here's hoping Theon joins her on that journey, too.
New episodes of Game of Thrones air on Sunday nights at 9 p.m. ET. You can check out some trivia related to the series, below.
Your Daily Blend of Entertainment News
Reality TV fan with a pinch of Disney fairy dust thrown in. Theme park junkie. If you've created a rom-com I've probably watched it.
Your Daily Blend of Entertainment News
Thank you for signing up to CinemaBlend. You will receive a verification email shortly.
There was a problem. Please refresh the page and try again.