Game Of Thrones: What Stannis' Fate Really Is, According To George R.R. Martin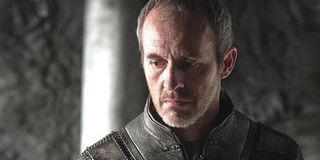 This should go without saying, but if you aren't caught up on Game of Thrones, please head out of this article, now. There are spoilers in these waters.
While many people have been focusing on whether or not Jon Snow will be alive when Game of Thrones returns to schedule for Season 6, there is another character who found his fate left in limbo during the finale. We didn't learn whether Stannis Baratheon lived or died during the Season 5 finale, but now George R.R. Martin has stated that Stannis is very much alive—at least in the realm of the books.
The quote was made to a commenter on the author's blog, although it unfortunately does not expand on what Stannis is up to moving forward in the A Song of Ice and Fire books. What it does do is tell us that at least in George R.R. Martin's mind, Stannis is still integral to the plot. We also know the Game of Thrones producers have consulted with George R.R. Martin about where the books are eventually going. However, the books and the show have diverged quite a bit, so Martin's quote is not necessarily an indication of where Game of Thrones is going, especially considering the blatant comments GOT director David Nutter has made.
Still, it's interesting to even consider the angle that Stannis is still important to the plot after his big downfall toward the end of Season 5. When we last saw Stannis on Game of Thrones, he had launched an attack on the Boltons during the finale, and when we last left him, he was injured in the woods by himself and Brienne was closing in. The outcome did not look good, but it certainly was different from where we left Stannis in the books. In Martin's novels, we only heard about Stannis' raid against the Boltons during a letter Ramsay sent to Jon Snow (who was last stabbed on GOT at the end of Season 5, so that timeline's all wonky, as well).
Both Jon Snow and Stannis have been declared dead by various people related to HBO's Game of Thrones, but there's been evidence that Kit Harington has been around on set, so the last few months have been full of misdirection, and it's still interesting that Martin has this take on where Stannis is at in the books, at least.
It'll still be a while before we find out exactly what is going on with the maybe/possibly/probably dead characters on Game of Thrones. Game of Thrones won't return to the schedule until 2016. In the meantime, here's everything we've learned about Season 6.
Amazing Race & Top Chef superfan with a pinch of Disney fairy dust thrown in. Theme park junkie. If you've created a rom-com I've probably watched it.
Your Daily Blend of Entertainment News
Thank you for signing up to CinemaBlend. You will receive a verification email shortly.
There was a problem. Please refresh the page and try again.