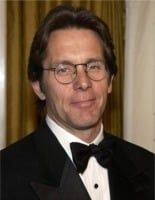 TVGuide.com is reporting that Gary Cole will take up residence in Wisteria Lane, playing Katherine Mayfair's mysterious ex.
Will he be as creepy as she's made him out to be? Could be, if he's anything like his Mr. Lumbergh character on Office Space. ("Yeah, I'm gonna have to ask you to move your desk downstairs into the storage room…")
Cole, who also played Vice President Bob Russell on The West Wing and Harvey Birdman on the animated cult hit, Harvey Birdman: Attorney at Law, will first be seen on Desperate Housewives on April 20. It's expected that he'll stick around for several episodes.