Glee's Heather Morris, Amber Riley And Others Demoted From Series Regulars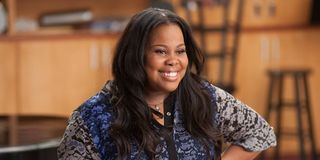 High school-set series often hit a slump when their cast members reach their senior year and graduate. Of course, Beverly Hills, 90210 prolonged that inevitable challenge by cramming in an extra junior year into the characters' lives, but most high school dramas will eventually attempt to evolve as the characters outgrow lockers and gym class and head off to college or whatever their post-high school future holds for them. Glee opted to try moving on and staying put all at once for Season 4, clinging to the "glee club" premise and the high school setting, while also trying to find ways to work the graduated seniors into the story, some more believably than others. While characters like Rachel and Kurt were given exciting New York stories, other characters found excuses to visit or linger around high school after graduating, which meant the actors were around, albeit on a less frequent, less relevant basis. Season 4 saw another graduation, and it looks like the show is taking a more noticeable approach to trimming down on its older characters, demoting a number of cast members from series regulars in the process.
The Wrap reports that original cast members Dianna Agron, Heather Morris, Mark Salling, Amber Riley and Harry Shum, Jr. will not be returning as regulars on the Fox musical dramedy next season, though they may come back for guest appearances. That's Quinn, Brittany, Puck, Mercedes and Mike. As the site points out, this shake-up follows last season's addition of new characters as graduated characters moved on, either on screen or off. And Deadline points out a technicality that Agron was actually demoted near the end of last season. Either way, that's five regulars who won't be regulars come Season 5.
Hardcore fans of the series may be disappointed to learn that characters are being written off or away from the show, but as I see it, Glee may not have any choice at this point unless it's willing to move away from high school completely and also find some way to bring those lead characters together in some believable story. The "send them all to the same college" ship has mostly sailed, since some of those demoted characters graduated a season ago, but it could still be an option if they really wanted to do it. The other option is to do what they're doing and keep the show in high school and focus a younger set of students, with each season introducing new kids and seeing the older ones graduate and moving on. Honestly, that seems like the right way to go about it if they want to maintain the glee-club plot. It goes against the whole spirit of the show to cling to its characters, or rather, for its characters to cling to high school after they've graduated. It's one thing for a graduated student to return to McKinley to check in with Mr. Schu, sing a song and maybe impart some post-high-school wisdom on the current glee club. It's another for characters who have evolved and made great personal strides thanks to the glee club to all of a sudden halt in that personal progress because the series is trying to find ways to keep them on screen.
Rachel, Kurt and Santana's New York adventure is another approach that the show has taken and it's worked out ok. But it definitely distracts our attention from the glee club, and it's probably going to feel more and more off-topic with each passing season, assuming they continue pushing that side-plot, but at the very least, it shows continued growth for those characters. They've moved on and we're getting to see it happen. If Glee wants to stand the test of time - and we know it's going to last at least two more seasons - it can't stand still. Hopefully fans will appreciate that and be willing to tune in to get to know new underdogs with new stories and challenges to face. Glee could last for years with that, constantly refreshing itself and also occasionally bringing former students back, rewarding those who stick with the series with a follow-up on their life since their days of Glee club.