The Glee Project Season 2 Auditions Start November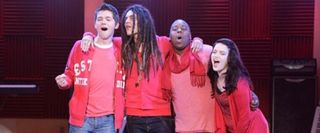 Glee wannabes, step up to the mic! The casting call has gone out: open auditions are beginning for the second season of The Glee Project. The reality show that feeds new stars to Fox's Glee will be welcoming hopefuls to audition either online or in person in select cities come November. You'll have to be over 18 and yet look like you're under 18; yes, like so many TV showsThe Glee Project wants adults to play high school students.
Of course, if you aren't up for an audition, or you would love to but simply can't find a good enough wrinkle cream to pass for a teenage like me, you can still enjoy the open casting call. The casting website lets you watch audition submission videos made by the brave souls willing to put themselves out there for a chance at a stardom. Is the next Glee star right there singing his or her heart out to a webcam?
The first season of the competition show has already churned out two new Glee cast members, and the first of them will make his appearance on the show on November 1st. Irish singer Damian McGlinty will step into his role as Rory Flanagan, and from TV Guide's chat with the co-winner it already sounds like the high school shenanigans are kicking up on the set. Samuel Larson, who was the second winner chose for a role on Glee, will make his appearance later in the season.
Let's just hope these Glee Project hopefuls have a show to move on to – Glee's third season premiered on September 21st to a ratings drop of 20% from last year's premiere. Perhaps the Oxygen talent competition will do better.
Your Daily Blend of Entertainment News
Thank you for signing up to CinemaBlend. You will receive a verification email shortly.
There was a problem. Please refresh the page and try again.