Glee Watch: Season 5, episode 9 - Frenemies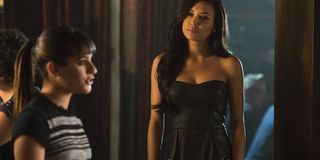 Gleeks, Glee has finally returned, making its mid-season spring debut with an all new night and an all new time. In last night's episode, a familiar feud resurfaced (ahem Santana and Rachel). Meanwhile competition heated up between Artie and Tina who both had their eye on the valedictorian prize. And did we detect some sparks between Starchild and Kurt? Let's recap, shall we?
Rachel and Santana's Feud Returns
Just when we think Rachel and Santana have moved beyond the petty high school stuff, it resurfaces big time. Rachel is beyond angry that Santana has tried out and won the part of Rachel's understudy. (Good for Santana.) And I think Santana has a point: Rachel wanted to hold something over Santana because of past high school wounds.
After some seriously harsh words spoken by Miss Berry - and Rachel's moving out - I don't think this relationship is salvageable. Well, at least until the season finale. I also think it was pretty crappy of Rachel to throw Kurt under the bus too. He was just trying to be neutral.
Kurt and Starchild
While Kurt may have had good intentions in saving Santana and Rachel's friendship, he didn't extend that same goodwill toward Starchild. Feeling majorly threatened by the charismatic Starchild, it looked like Kurt planned to take down Starchild with some finger sandwiches. (Did anyone catch if Kurt laced them with laxatives or something?)
Starchild is no fool and reassures Kurt that he doesn't plan to take away the band from him. And on that note, things were smoothed over (for now), and we got an epic duet of "I Believe in a Thing Called Love." I'm looking forward to more Kurt and Starchild duets; however, will that mean we'll see a "Blurt" split and a Starchild and Kurt coupling in the future? Becky - spying a selfie pic of the twosome - seems to think so.
Tina vs Artie
Turns out Kyle's mom isn't the biggest bitch in the whole wide word after all: It's Tina Cohen Chang.
The valedictorian competition is fierce and gets ugly between Artie and Tina. At one point, Tina goes too far and literally knocks Artie out of his wheel chair. But like with all things Glee the two reconcile and both recommend the other one for valedictorian which really pissed Sue off. So, Sue yanked both Tina and Artie out of the running and gave the valedictorian title to Blaine.
LOL Moments
Sue threatening Tina and Artie with a lifetime of pee laced drinks.
Memorable Quotes
Artie: " It's time you heard this. The whole school has been talking about it. Everyone's convinced sometime between junior and senior year an alien invaded your body and made you shallow and desperate."
Santana: "Now everywhere I go I'm known as the girl with the raging yeast infection."
Santana: "I need this job. I'm saving up to buy a noose to hang myself."
Music featured
"Every Breath You Take"
"Brave"
"Breakaway"
"My Lovin' (You're Never Gonna Get It)"
"Don't Rain on My Parade"
"I Believe in a Thing Called Love"
"Whenever I Call You Friend"
Gleeks, next week we've got music from "The Breakfast Club" as our backdrop while New Directions preps for Nationals, and the NYC gang continues to deal with the Rachel and Santana fall-out. See you next week!
Your Daily Blend of Entertainment News
Thank you for signing up to CinemaBlend. You will receive a verification email shortly.
There was a problem. Please refresh the page and try again.