Golden Globes Officially Canceled (Updated)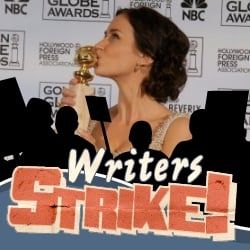 The writing has been on the wall for several days now, but today NBC has officially canceled this year's presentation of The Golden Globes. According to Deadline Hollywood Daily, not only has NBC put the kibosh on a televised version of the ceremony, but the bandied about idea of having a non-televised ceremony is also a no-go. Instead, NBC will be airing a stripped-down newscast in which we simply find out who the winners are.
Since the ceremony is no longer going to be televised, many of the other aspects of the awards show will remain the same: there will be still be a red carpet, a press room and after parties all taking place in The Beverly Hilton. This allows everybody to attend, including SAG members and picketing writers.
While this move is completely unprecedented, there's a chance that NBC could still hang onto some ratings. After all, most people watch awards shows to see what people are wearing and whom they forget in their acceptance speeches. With the red carpet intact, we'll still be able to judge the stars' sartorial choices. While there will be no acceptance speeches, the press room is often rife with flubs, folly and off-the-cuff remarks (who can forget Isaiah Washington's career-sinking line about the very mean name he did not call T.R. Knight?). Maybe Globes 2.0 will be for the best: all the glam, none of the boring montages.
UPDATE:
NBC has just released the official television schedule for The Golden Globes coverage:
"At 9 pm [EST] there will be a press conference covered by NBC News announcing the Golden Globe winners. (9pm-10pm)
At 8 pm, we are negotiating with Dick Clark Enterprises for a one-hour retrospective/clip show.
At 7 pm we will air a Dateline with clips and interviews with nominees. (Currently scheduled to air for two hours on Saturday night.)
At 10 pm we will broadcast an "Access Hollywood" style, Golden Globes party show...visiting the various parties in Hollywood."
UPDATE #2:
Apparently the WGA saw NBC's plans and viewed it as an end-run around their objections to a Golden Globes telecast. In an email sent by WGA West director David Young to his SAG counterparts, he called NBC's plan a "scam" saying, "It is a blatant ploy to get actors and other talent to attend the event. It is the Globes under the name of a news conference. We have informed Dick Clark Prods. that we will picket the event on Sunday."
Because of this, the "Globes 2.0" idea floated above has been canceled. There will be no red carpet and all of the after-parties are canceled. The only remnant of NBC's plan is going to be the press conference in which the winners' names will be announced. In light of these developments, Jorge Camara, a spokesperson for the Hollywood Foreign Press Association released a statement saying, "We are all very disappointed that our traditional awards ceremony will not take place this year and that millions of viewers worldwide will be deprived of seeing many of their favorite stars celebrating 2007's outstanding achievements in motion pictures and television. We take some comfort, however, in knowing that this year's Golden Globe Award recipients will be announced on the date originally scheduled."
While NBC is no longer paying the HFPA a licensing fee for the Globes telecast, they are by no means getting off financially scot-free. The awards ceremony generally brings in $15-$20 million for the network--revenue that a news conference will not recoup. For its part, the WGA hopes that the lost revenue will make the AMPTP take notice and come back to the table before any other awards shows are threatened, saying, "[The WGA is] hoping that they see the collapse of awards season and our ability to make interim deals with other companies as a sign that we are serious, and they need to get back to the table with us."
Your Daily Blend of Entertainment News
Your Daily Blend of Entertainment News
Thank you for signing up to CinemaBlend. You will receive a verification email shortly.
There was a problem. Please refresh the page and try again.