Google Celebrate Gumby Creator's Birthday With New Doodle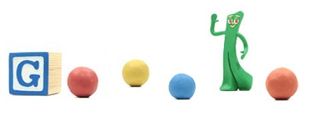 A few weeks ago Google celebrated what would have been Jim Henson's 75th birthday with an interactive doodle on their home page, allowing you to click on the various puppets, move them around, and even let the red "e" eat the green "l." But Google doesn't just honor legendary animators who happen to have new movies starring their creations coming out this November; today's doodle is in honor of the birthday of another animator who practically invented our childhoods, Gumby creator Art Clokey.
Clokey died just last year, so I guess you can also see the doodle as a tribute to the man who was on the cutting edge of experimental claymation and then went on to great television to success when The Gumby Show went on the air in 1957. I've taken a few screenshots of the Google doodle below so you can get an idea of how it works, but really, all you need to do is go to Google.com to play around.
I always feel a little torn when promoting Google doodles, as they are delightful, interactive, totally free things that also serve as a kind of promotion for one of the biggest corporations in the world. But then again, in a time when we're all still celebrating the life of Apple CEO Steve Jobs, I guess it's the season for fondly looking up on the tech companies who have changed our lives for the better. At least we can al agree that Gumby is awesome, and celebrating the life of his creator is a pretty classy thing, giant corporation or no.
Staff Writer at CinemaBlend
Your Daily Blend of Entertainment News
Thank you for signing up to CinemaBlend. You will receive a verification email shortly.
There was a problem. Please refresh the page and try again.