Graphic Novel Prequel For Netflix's Horror Series Hemlock Grove Arrives Online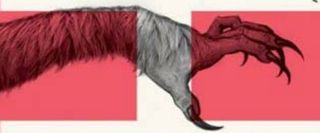 As part of their programming shift, Netlfix has been developing several projects, one of which is an adaptation of the debut horror novel from Brian McGreevy called Hemlock Grove. The novel hit bookshelves on March 27th and the upcoming television series, co-written by McGreevy with his writing partner Lee Shipman, was developed by producer Eli Roth and Gaumont International Television, with the former also attached to direct. And the book may have just dropped Tuesday but today, courtesy of the science-fiction and fantasy website TOR.COM, you can already get a taste of what's to come with a new graphic novel prequel.
Apparently, the comic book addition to Hemlock Grove wasn't in the original plan but, as Eli Roth tells it in the same post, more like an incredible and welcome surprise...
Hemlock Grove is a supernatural horror/thriller that opens with the corpse of a young girl in the woods of Hemlock Grove, Pennsylvania. The girl's body is mangled in a way that suggests maybe the police shouldn't be looking for a man but something else. Could something have escaped from the local biotech facility owned by the Godfrey family - matriarch and control freak Olivia, her son and suspect Roman, and lastly, their 'freakish' sister Shelly (an homage to Frankenstein mayhaps?)? But others think that trailer trash and self-professed werewolf Peter might also be the guilty party. And as the case goes cold, Roman and Peter find themselves the primary suspects and therefore, decide to team up and solve the darn thing themselves Hardy Boys style.
The television series sounds especially exciting for many reasons, first and foremost because of the praise that McGreevy's novel has received in the short time since its release (comparisons to Twilight will be inevitable but it seems that HG is far more literary and the author even found himself being compared to the Jonathans, Lethem and Franzen).
I'm also interested to see what Eli Roth can do directing for the small screen, especially with some strong serialized storytelling. And finally, just last week, casting began for the 13-episode first season with the lovely Famke Janssen as well as Bill 'Alexander's younger brother' Skarsgård cast as Olivia and Roman Godfrey. I can't wait to see some footage! Good horror is lacking on television, sorry Walking Dead.
Hemlock Grove will air on Netflix in January, 2013. It stars Famke Janssen and Bill Skarsgård (so far). From Eli Roth and Gaumont International Television, the series based on the novel of the same name by Brian McGreevy.
Check out the graphic novel here.
Your Daily Blend of Entertainment News