Netflix's Hemlock Grove Casts Famke Janssen, Bill Skarsgard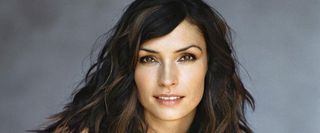 We have heard little about Eli Roth's big debut with Netflix since upcoming murder mystery series, Hemlock Grove was announced in December, but it now seems as if the series has really gotten the ball rolling over at the subscription service, hiring two names to headline the cast.
Famke Janssen and Bill Skarsgård, son of Stellan, are set to join the Hemlock Grove cast in two very different roles. Janssen will play Olivia, the head of the wealthy Godfrey household in the Pennsylvania town. Skarsgård will play her son, Roman, who eventually teams up with a local Gypsy boy in the attempt to solve the mystery on his own terms. The role should be a big one for the young actor, who is set to appear in the upcoming Anna Karenina adaptation, but has otherwise been involved with Swedish films. Brian McGreevy and Lee Shipman are set to executive produce the series.
Hemlock Grove has actually been outlined fairly well thus far. We know the series will begin with the dead body of the girl. We know the Godfrey family will be at the heart of the series, with Olivia, Roman, and the deformed sister, Shelley at the forefront of the story. We also know a biotech facility and some sort of monsters will be present in the series. Netflix Chief Content Officer Ted Sarandos is calling the series "a sly blend of J.D. Salinger and and Mary Shelley (that) will appeal to a broad base of fans."
With so much of Hemlock Grove already put together, it seems like the series is nearing completion even though in reality, it will not begin showing up on Netflix until 2013. The good news is, thirteen episodes will be produced in the first season, which is way more than the eight episodes Netflix put together for Lilyhammer. The real question is whether Netflix is showing more confidence in its original content or whether the company is simply showing confidence in Roth.
Your Daily Blend of Entertainment News