HBO's Luck Stables Horses While Working Conditions Are Checked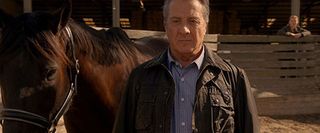 Yesterday, news broke that one of Luck's horses was not so lucky, after all. California Horse Racing Board (CHRB) veterinarian Dr. Gary Beck discussed the incident, stating that after rearing up near a stable, the horse fell backwards, hitting her head on the ground and severely injuring herself. Beck, with attending vet Heidi Agnic, ultimately decided the most humane thing to do was to euthanize the horse. While it certainly seems as if protocol was followed in regard to the incident, unfortunately for HBO and the Luck production, yesterday marked a third time a horse met a similar fate during the filming of the program.
PETA was up in arms over the ethical treatment of the animals, stating the show's management of its animals was "sloppy," and "disregarded" the rights of the horses. While HBO has come out and vehemently denied the People for the Ethical Treatment of Animals' charges, the company has decided to stop using animals on the set of Luck until the American Humane Association (AHA) can come in and do test checks to make certain the set is designated as safe. According to, THR, Luck's production crew actually works with the AHA and the CHRB to make sure everything is working according to safety standards. The horses even get pre-race exams to make certain everything is kosher.
So, why all the accidents? The CHRB Equine Medical Director Dr. Rick Arthur says accidents are more common than people would think.
While I would expect Luck to pass all of its safety checks, PETA does not seem to be backing down. Unfortunately, while I'm sure HBO was not hoping for a third death after the first two occurred during the filming of Season 1, after a third, the network will have to continue treading lightly in the future. I wouldn't be surprised if the combination of PETA drama and low ratings on HBO marked an end to the unlucky Luck.