HBO Options Movie Based On The Life Of Producer Freddie De Cordova's Wife Janet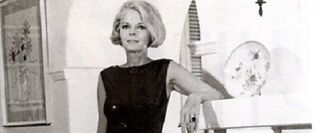 HBO has picked up the option to one of the more unusual stories to come out of Hollywood's Golden Age – that of Janet de Cordova, the wife of Jonny Carson's Tonight Show producer whose Mexican maid winds up the best and only true friend at the end of her life of glitzy parties with A-list celebs.
Once Upon a Time in Beverly Hills is based on a Vanity Fair article that tells the story of de Cordova's life as the socialite wife of producer Freddie de Cordova. HBO has picked up the option to turn it into a movie, says Deadline. It's much more than the tale of another wealthy woman in Beverly Hills. This one tells the story of a socialite's interesting relationship with her housekeeper, a Mexican woman named Grace Covarrubias.
(Spoilers!)
Janet de Cordova spent her years in Beverly Hills throwing lavish soirees for the biggest names of the area in film, music, and television. Among the names said to have attended her parties are Billy Wilder, Gary Cooper, Frank Sinatra and fellow Rat-Packer Dean Martin. Her opulence outdid her income, and she was forced to sell her home upon the death of her husband, leaving her with nothing. With all the friends of her wealthy days gone, she turned to Covarrubias, who is said to have performed many duties beyond the call of a housekeeper, including stirring her drink for her as she walked around. In an ending that is stranger than fiction, de Cordova winds up living in Mexico – in a replica of her home that her housekeeper built with her earnings.
The HBO movie has Matt Tyrnauer, who wrote the original Vanity Fair article on board as the director. He was behind another old-Hollywood based movie – the documentary Valentino: The Last Emperor. John Hoffman will write the script for this unusual – and fascinating – true Hollywood story.
Your Daily Blend of Entertainment News
Thank you for signing up to CinemaBlend. You will receive a verification email shortly.
There was a problem. Please refresh the page and try again.