Hannibal Ratings Improve Slightly, Community Also Up From Last Week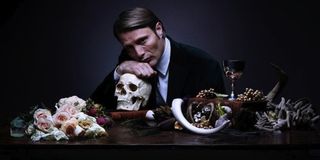 Without the likes of Olivia Pope and Sherlock Holmes to contend with - or new episodes featuring said characters, anyway - Hannibal Lector didn't do so bad in his second night out at NBC. In fact, the ratings show that Hannibal was actually up from its premiere week, not by much, but given the already soft numbers the serial killer drama brought in, up is most definitely a good thing.
According to Deadline, Hannibal's ratings rose from a 1.6/5 rating on April 4 for its premiere to a 1.7/5 rating on Thursday, with a total viewership of 4.376 million, up from 4.36 million. Like we said, it's not exactly a ratings spike, but it's also not especially common for new shows to increase in ratings in their second episode. In fact, as Deadline points out, The Following is the only other new show on network TV to do that this season. When we shared last week's numbers, we noted that Scandal would be in reruns this week, which we hoped would help Hannibal, and it seems it has, along with Elementary also airing a rerun.
Community also had a good night. It may have been the appeal of the puppets - the episode and the characters turned into muppet-like puppets - or NBC's heavy promotion of the episode, which included encouraging people to watch the episode live that did the trick, or the fact that The Big Bang Theory was a rerun - or a combination of all of the above - because the series was up 20% from a series low last week, with a 1.2/4 rating. The series managed to top the season finale of Go On, which brought in a 1.1/3 rating in its post-Office time slot. The Office, meanwhile, earned a 1.9/5, which is up from last week's series low. And Parks and Recreation earned a 1.5/5 rating. All in all, it wasn't NBC's worst night. The Peacock was up against American Idol's results episode (3.1/10) and Glee's "Shooting Star" episode, which addressed school shootings and earned a 2.4/6 rating. CBS and The CW were both in repeats last night.
Your Daily Blend of Entertainment News
Thank you for signing up to CinemaBlend. You will receive a verification email shortly.
There was a problem. Please refresh the page and try again.