Happy Days' Marion Ross To Guest On The Middle's Season Finale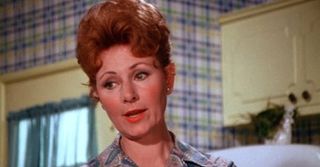 The Middle's season finale is set to feature an appearance from a classic TV star. Happy Days' Marion Ross will be paying a visit to the ABC comedy for the Season 4 closer.
Ross will be coming on board The Middle to play an elementary school vice principal, where TV Line says we'll see her have a run-in with the family's youngest child, Brick Heck (Atticus Shaffer). That's about all the details we have on her appearance for the moment, but as one of TV's most memorable moms an appearance by Ross is always something to look forward to.
Since playing the iconic role of Mrs. C. on Happy Days Ross has made numerous guest appearances, including shows like That 70s Show, Gilore Girls and recently on Up All Night. She provides her voice to several TV shows as well, including kids programs like Handy Manny. Her television career goes all the way back to the 1950's when she first appeared on Life with Father, which means she has basically been on TV for as long as it has been around. It doesn't get much more impressive than that. On the film side we'll see her next in the drama A Reason.
Ross joins a list of guest stars for The Middle this season that has included Jane Kaczmarek, French Stewart, and Dave Foley. Marion Ross' season finale appearance will air later this spring, the date has yet to be set. The Middle airs Wednesday nights on ABC at 8 p.m. EST.
Your Daily Blend of Entertainment News
Thank you for signing up to CinemaBlend. You will receive a verification email shortly.
There was a problem. Please refresh the page and try again.