Hart of Dixie: The Complete First Season [DVD Review]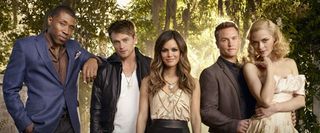 Hart of Dixie is not the type of show that a huge audience is going to gravitate to. Its heartfelt problems and small town setup—in the deep south, nonetheless—push forward at an extremely slow pace that lacks in the action department. However, Hart of Dixie: The Complete First Season has a knack for sucking you in and not spitting you out until you've reached the season's conclusion.
The highlight of Hart of Dixie is the show's cast of eccentric characters. The show primarily follows Dr. Zoe Hart (Rachel Bilson), a newcomer to the small town of Bluebell, Alabama, but it also gives onscreen precedence to Mayor Lavon Hayes (Cress Williams), lawyer and all-around nice guy George Tucker (Scott Porter), southern belle Lemon Breeland (Jaime King), and bad boy Wade (Wilson Brethel). Immediately, the show sets up a bizarre "Will they or won't they" love triangle between Hart, Wade, and the most certainly engaged George. Things get even more complicated when Lemon and Lavon own up to some past misbehavior.
As eccentric and wonderful as the characters are in given moments, sometimes they inexplicably deviate from character or revert back to former versions of themselves. This seems to be a writing problem, first and foremost. There are 22 episodes in Season 1 and throughout the middle of the season, it's almost like the writers ran out of new ideas and retreated into some of their old fodder instead of pushing forward. For an example of this, you only have to look as far as Brick Breeland (Tim Matheson), the doctor who shares Zoe's practice and who initially wants Zoe to return to the big city she hailed from. Partway through the season, he begins to warm to Dr. Hart, but then flips back to despising her, and then, out of nowhere, begins acting like a father figure. Brick should never have been such a bipolar character, and as much as I wanted the hate-to-love transition, it isn't effective.
It's a shame the writing spends so much time lingering on plotlines like Brick's, because there are certainly enough townsfolk to warrant side stories that are a little more outside the box. Hart of Dixie is set in small town, leaving plenty of opportunity for recurring characters to pop up now and again. One of the CW's other shows, Gilmore Girls, was set in a similar small town environment, but definitely managed its ensemble cast of townsfolk a whole lot better than Hart of Dixie does. While Season 1 increases the use of recurring characters later on by giving Annabeth (Kaitlyn Black), Dash (Reginald VelJohnson), and Tom (Ross Philips) more to work with, it comes too late.
None of this detracts from the charm of Hart of Dixie. The cutesy dialogue in the show is always easy, and the nature of the town taking a while to warm up to a woman who isn't willing to change her city habits works perfectly in the show. As the selfish–but-charming Zoe Hart, Bilson is entertaining and gives us a character to root for, but the fashionable actress doesn't even begin to hold a candle to King's Lemon, who capably plays a pseudo southern belle with a sorostitute attitude and a funky vintage wardrobe. Lemon is bold and modern, and always offers new surprises. If the rest of the show was half as clever, Hart of Dixie could be one of the better programs on television.
It's not, but that doesn't mean Hart of Dixie is a bad program. In fact, I've constantly found myself impressed with the way Leila Gerstein's effort manages to create its own niche in today's television schedule. Despite my former mention of the past program, Gilmore Girls, there is nothing like Hart of Dixie on television. The townsfolk, while not without problems, are genuinely goodhearted people and don't delve into hardship and sorrow like other small town dramas (e.g. Friday Night Lights). The jokes manage the wit and cultural references that are trendy in network comedies, while the writers cultivate their own distinct culture and landscapes onscreen. Hart of Dixie is delightful, and you don't have to look any further than "Planksgiving" to determine that.
The Complete First Season is a nice little set that doesn't ever bridge the gap into fancy or extensive. The 5-Disc DVD comes with deleted scenes on each of the discs. I think this is meant to keep the deleted scenes nearer the episodes they would have appeared in, but since I just watched them all at once, it was kind of a hassle to continually change discs. The big extra is the featurette, "Straight From The Hart of Dixie," which is your basic behind-the-scenes segment about the characters and life in Bluebell. What was most strange—and most interesting—is that none of the actors with southern accents on the show have accents in real-life. They all sound California crisp, except for maybe King, who I would guess has more of a middle American lilt. Rounding out the special features is a gag reel that reads more like an outtakes feature.
If you plan to purchase, it shouldn't be for the extras, the bland discs, or the DVD picture. If you plan to buy Hart of Dixie: The Complete First Season, it should be for the show itself. You won't find anything like it on television, and if you do get sucked in, I won't even say "I told you so."
Length: 968 min.
Distributor:Warner Home Video
Release Date: 10/02/2012
Starring: Rachel Bilson, Jaime King, Cress Williams, Scott Porter, Wilson Brethel
Directed by:David Paymer, Joe Lazarov, Tim Matheson
Written by: Leila Gerstein, Donald Todd
Your Daily Blend of Entertainment News
Thank you for signing up to CinemaBlend. You will receive a verification email shortly.
There was a problem. Please refresh the page and try again.